MARINE ORGANISMS
OF RÍA LAGARTOS BIOSPHERE RESERVE
Yucatán, México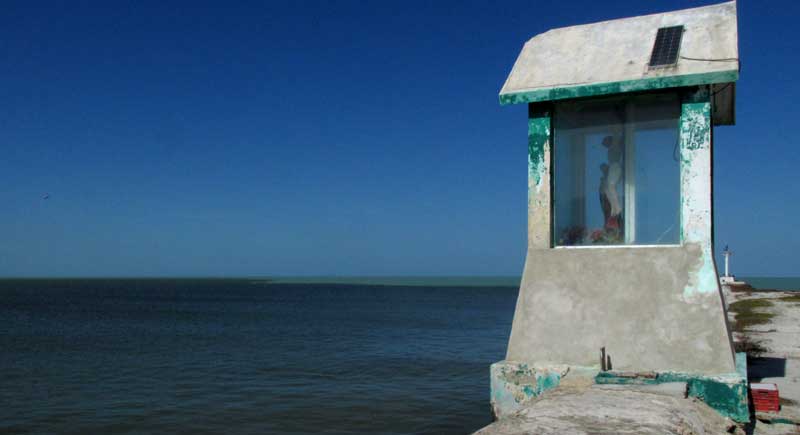 The Gulf of Mexico at the exit of the canal across the estuary from Río Lagartos.
Characteristic aquatic plants, algae and plant-like organisms in the Gulf of Mexico along the Reserve's northern shore:
ALGAE:
GREEN

BROWN/ GOLDEN

± WHITE
NOTE ON ALGAE: For an extensive look at alga along the Yucatan coast, see G Morales y I Ortegón, Distribución de la flora ficológica en la Costa de Yucatán in 3er Simposium sobre el Conocimiento de los Recursos Costeros del Sureste del México, Universidad Autónoma de Yucatán. Mayo 29, 2013-Mayo 30, 2013.
That document finds the dominant species to be Caulerpa sertularioides, present in 45% of collecting sites; then Caulerpa prolifera in 36%, and Canistrocarpus cervicornis, Caulerpa ashmeadii, C. cupressoides in 32%. of the sites.
Characteristic aquatic animals in the estuary in the Gulf of Mexico along the Reserve's northern shore:
MOLLUSKS/ SEASHELLS
Gastropods (one shell)

Bivalves (two shells hinged together)

Other Mollusks

Sponges