Excerpts from Jim Conrad's
Naturalist Newsletter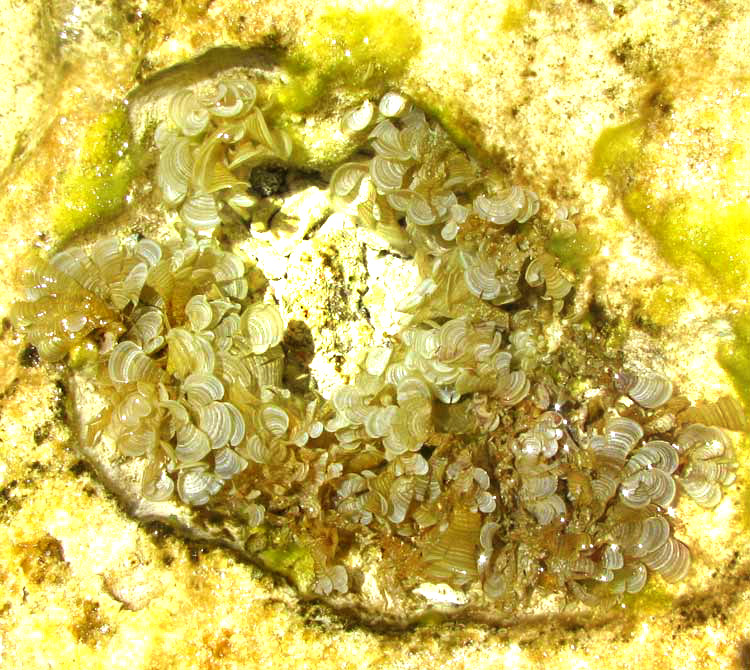 from the May 8, 2011 Newsletter issued from Mayan Beach Garden Inn 20 kms north of Mahahual, Quintana Roo, México
WHITE SCROLL ALGA
Friday afternoon the tide was so low that up at "The Point" rocks that usually are submerged stuck from the water, and there were tide pools to snoop into. Tide pools are seawater-filled rock holes that come into existence at low tide, look like sunken bathtubs, and usually are filled with interesting organisms. You can see one such tide pool about two feet across above.
A close-up of the pale flat organisms in the pool is shown below: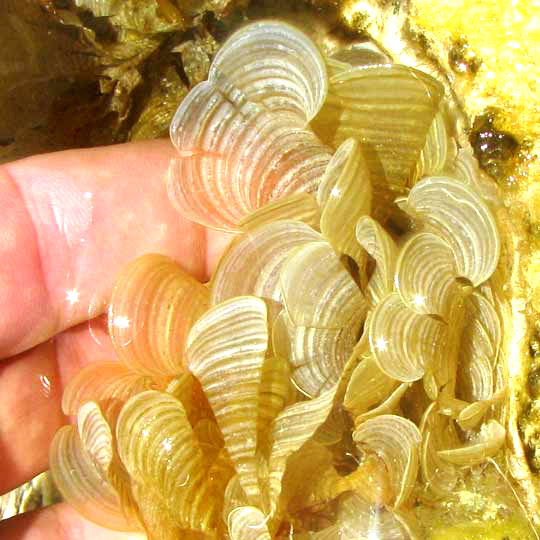 I had no idea whether this was a plant, animal, fungus or something else. However, back at Mayan Beach Garden's little library I didn't need much time thumbing through identification guides to organisms of Caribbean coral reefs to figure out that this was the White Scroll Alga, PADINA JAMAICENSIS, apparently a common alga in the Caribbean, including along the shores of southern Florida.
White Scroll Alga is a brown alga, along with Kelp and Sargasso. The genus Padina is a common one with many of its species bearing leafy, fan-like blades like ours. They attach to rocks and other hard substrates in shallow water. A study of White Scroll Alga found that when fish fed heavily on it, instead of forming fan-like blades they produced slender strands. Remove the fish and then the same plants begin producing fan- like blades.