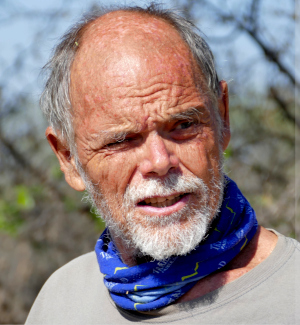 This website was begun back in the 1990s by Jim Conrad, who has been building it and keeping it going until now. That's Jim at the left. Nowadays Jim is past 70 years old and hopes that others will take over the website, keep it going, and improve it, as explained on our Help Page.
---
Over the years, Bea Laporte in Ontario, Canada, has helped with the site by pointing out typing errors in Jim's Newsletters and on web pages. Also -- using nature study techniques described at this web site -- Bea has become an exceptionally good, self-taught insect identifier. That's Bea below. You might enjoy reviewing these excellent pages, all text and photos produced by Bea:
---

K.B.Jinan

K.B.Jinan of Kerala, India, pictured at the left, similarly has produced a beautiful and popular page on "Nature Sensitization" where he states the following, in words expressing the spirit of our entire website:

Our senses are doors to the outer world and also to the inner world. We must refine our senses in order to make it easier for us to experience beauty and understand the world around us.

---

JoAnn Wason in central Georgia, USA, translated several of our site's insect pages into Spanish, plus she's provided much-visited "Wildflower Bouquet" pages displaying and commenting on beautiful flower arrangments composed of Georgia wildflowers.

---

We hope to add profiles of many more contributers to the website as BackyardNature.Net grows and evolves.