Excerpts from Jim Conrad's
Naturalist Newsletter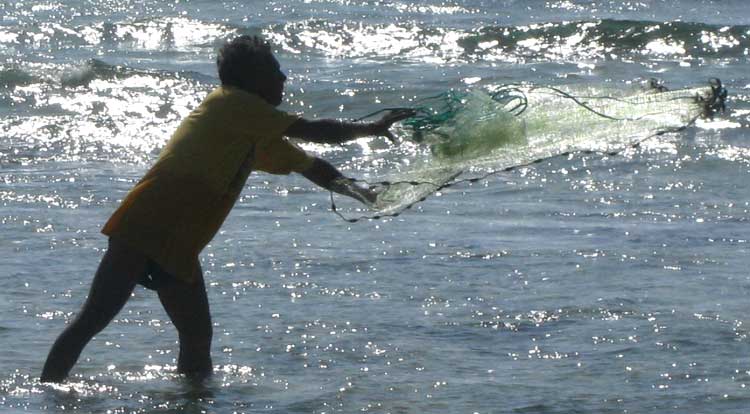 from the May 1, 2011 Newsletter issued from Mayan Beach Garden Inn 20 kms north of Mahahual, Quintana Roo, México
CAST NETTING FOR SARDINES
Up the beach I ran into an old guy with a bucket and a net. He said he was going to catch Sardinas to use as bait. Spotting my camera, he told me to watch and take pictures "para su reportaje," "for your report." I guess he has figured out that the reason we gringos take so many pictures is that we're all doing reports. With his net under his arm he waded into the shallows, straightened out his net, walked around gazing into the water like a stork, and then suddenly he cast his net, and you can see my report for that pretty moment at the top of this page.
He needed only one cast. The old guy is showing off below: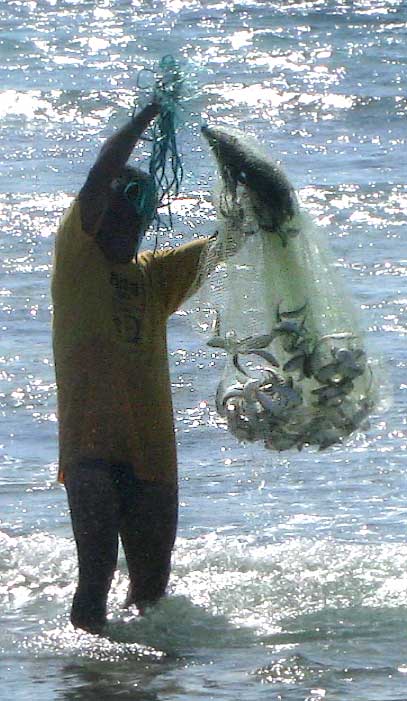 Up on the beach he tossed his catch before me, seen below: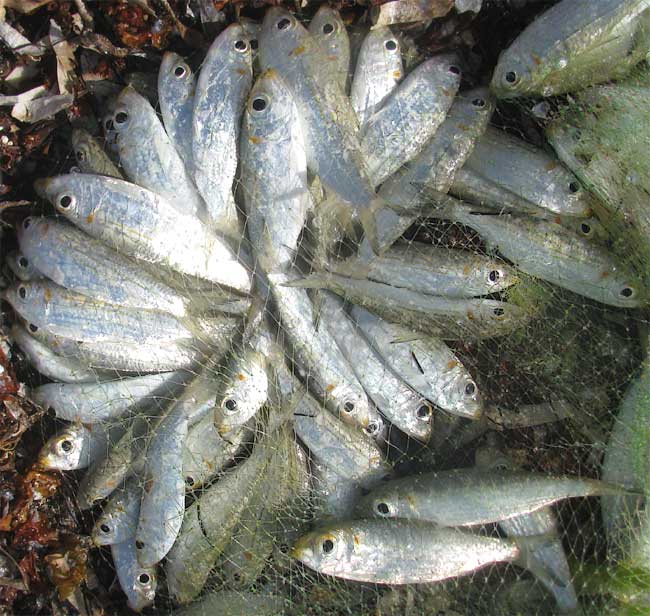 A close-up of a single fish is shown below:

A conspicuous field mark for this species seems to be that reddish-orange spot behind the eye. Back at Mayan Beach Garden's little nature library I dug out Humann and Deloach's Reef Fish Identification: Florida Caribbean Bahamas and, looking for a small, silvery fish with a reddish-orange spot behind the eye, soon matched my "Sardinas" with a picture.
It looks like the fish are Redear Herrings, sometimes called Redear Sardines, HARENGULA HUMERALIS. Plenty of pictures of the species appear on the Internet but there's not much information about them, other than that in shallow water they swim in dense schools and are much sought after as bait. One study finds that they reproduce year round, but mostly from January to August.