Excerpts from Jim Conrad's
NATURALIST Newsletter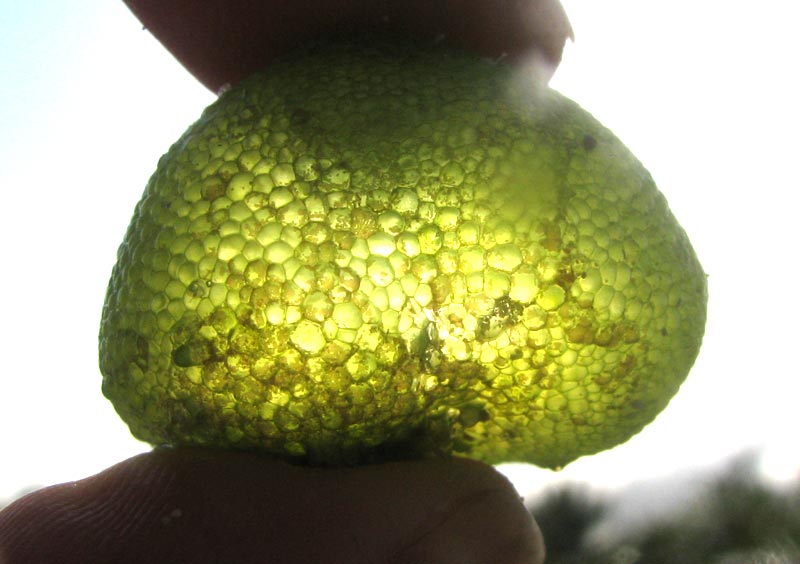 from the June 6, 2011 Newsletter issued from Mayan Beach Garden Inn 20 kms north of Mahahual, Quintana Roo, México
LITTLE GREEN BALLS ON THE BEACH
Lately little green balls with granular skins with the consistency of dried gelatin have been washing up on the beach. You can see one held in my fingertips above. When the ball in the picture was shaken, a bubble taking up about 1/5th of the ball's volume was clearly visible sloshing back and forth. Some balls had been broken open. You can see one of those below: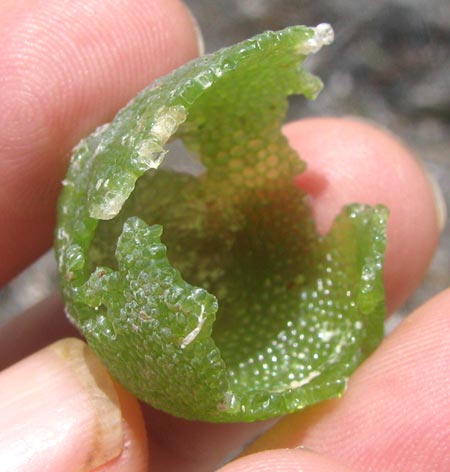 Also sometimes wavy or contorted sheets of the same type show up. Some of that is shown below: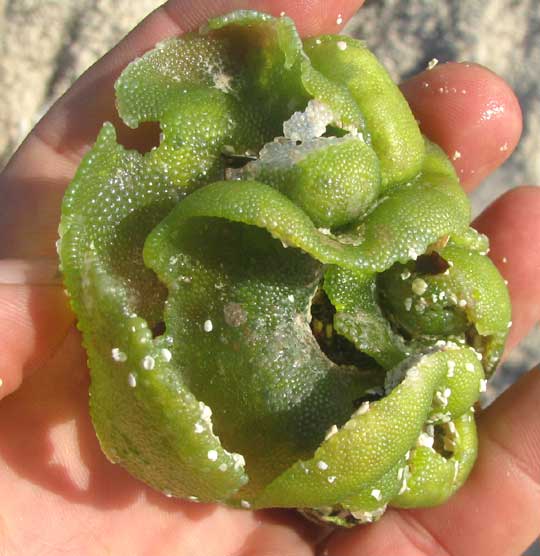 Clearly, there's a lot of this offshore, and something is knocking some of it loose.
Volunteer identifier Bea in Ontario figured out what it is: One English name for it is Green Bubble Alga. It's DICTYOSPHAERIA CAVERNOSA, characterized as "an opportunistic green alga which is invasive in overfished, high nutrient reef communities." Waters off our shore are definitely overfished.
The green balls are young, budlike growths while the irregularly warped and lobed pieces are from older bodies. I read that older plants can form convoluted mats from one to ten cm thick (up to four inches) covering large areas of rocks or coral rubble in shallow, calm reef flats and in tide pools.
In fact, such solid sheets have been documented overgrowing and displacing coral on reef slopes and outer reef flats that they kill the coral by smothering. I don't know that that's happening here, but judging from the abundance of washed-up Bubble Alga bodies, I'd say that it's very possible.
At first I was excited by finding such a novelty, but now seeing so much of it has become a bit troubling.