Excerpts from Jim Conrad's
Naturalist Newsletter
from the April 1, 2006 Newsletter written at Hacienda San Juan Lizárraga one kilometer east of Telchac Pueblo, Yucatán, MÉXICO and issued from Hotel Reef Yucatan 13 kms to the north
COQUINA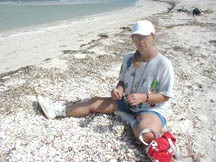 Several times I've mentioned how in certain spots along the sandy beach beside Hotel Reef often you come upon long, fairly pure deposits of small, white seashells several inches deep. When my Natchez friend Karen visited here last year we got a picture of her atop such a heap, and that's shown at the right.
About 80% of the shells in those wave-tossed-up heaps are of a single clam species, and at last I've figured out what that species is. It's Coquina, DONAX VARIABILIS. You can see a nice shell close-up at http://www.seashells.org/seashells/coquina.htm.
This species is one of the most common and abundant clams in the Gulf of Mexico. Individual Coquinas migrate shoreward during rising tides, then return seaward during falling tides. They spend most of their time in the sand, but on the Internet I find the observation that they emerge several times per tidal cycle to "ride waves." I think they must mean that the clam takes advantage of waves carrying them in the direction they want to go. One report says that clams actively "jump out of the sand and ride specific waves."