from the October 31, 2010 Newsletter issued from Hacienda Chichen Resort beside Chichén Itzá Ruins, central Yucatán, MÉXICO
BEAUTYBERRIES
You can see a roadside bush fairly common around here above. Actually, that picture of flowers was taken in early September. Now the bushes are fruiting, as shown below: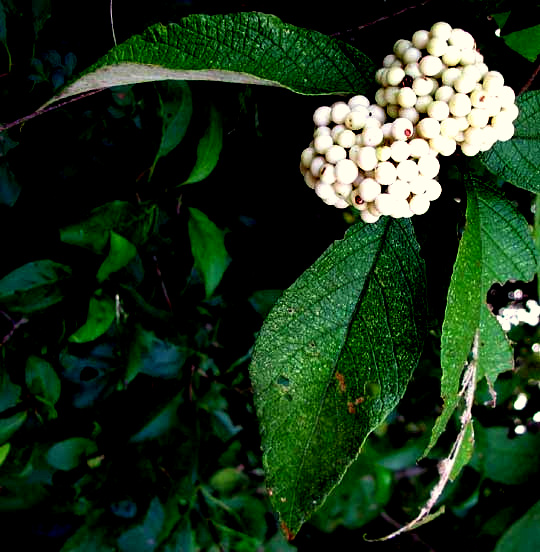 I've put off introducing this pretty, frequently seen bush until now because I was uncertain about its ID.
From the first I recognized the bush's similarity to Beautyberry, Callicarpa americana, which is so conspicuous nowadays in the US Deep South, with its gaudily pink-violet clusters of pithy fruits, shown at http://www.backyardnature.net/n/w/beauty-b.htm.
So, is there a Beautyberry -- a member of the genus Callicarpa -- listed for the Yucatan? Yes, CALLICARPA ACUMINATA. Moreover, the description of Callicarpa acuminata fits our bushes in every respect... except this: Callicarpa acuminata nearly always is described as producing very dark purple or black fruits, while our bushes' fruits have been white for two months and show no sign of darkening.
However, the US's Beautyberry has produced a white-fruited cultivar, and I find at least one mention on the Internet of our shrub sometimes producing white fruits, so I'm going ahead and calling it a Callicarpa acuminata. If you need an English name for it, "White-fruited Mexican Beautyberry" would be good as any.
I read that the Maya take a cold-water infusion of the crushed leaves to halt diarrhea and dysentery.
By the way, our beautyberry's leaves are interestingly rough (scabrous), wrinkled (rugose), and bear tiny, star-shaped (stellate) hairs. A close-up showing a little morning dew gathered among the hairs is shown below: