Excerpts from Jim Conrad's
Naturalist Newsletter
from the June 10, 2012 Newsletter issued from the woods of the Loess Hill Region a few miles east of Natchez, Mississippi, USA
BEAUTYBERRY FLOWERING
Nowadays the Beautyberry bushes, CALLICARPA AMERICANA, are flowering, as shown below: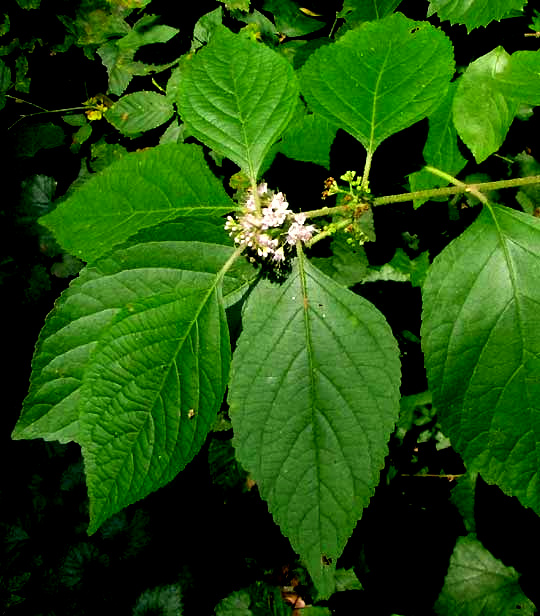 A close-up of some flowers is below: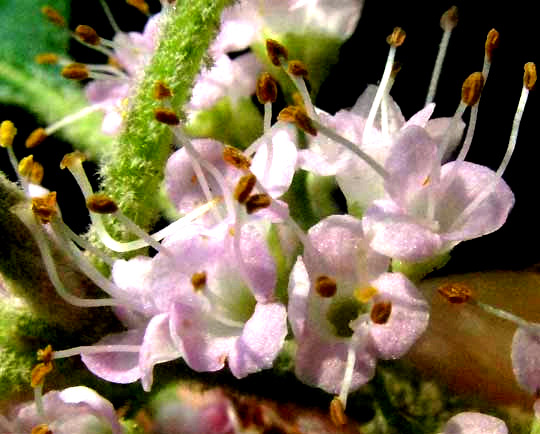 There you see that the corollas are parted into four lobes, not the more typical five, and that four stamens of equal lengths extend well beyond the corolla, and arise from the corolla tube's wall. These features, along with the stems' opposite leaves (two leaves arising at each node on the stem), all are characteristic of the Vervain Family, the Verbenaceae, to which Beautyberries are assigned.
---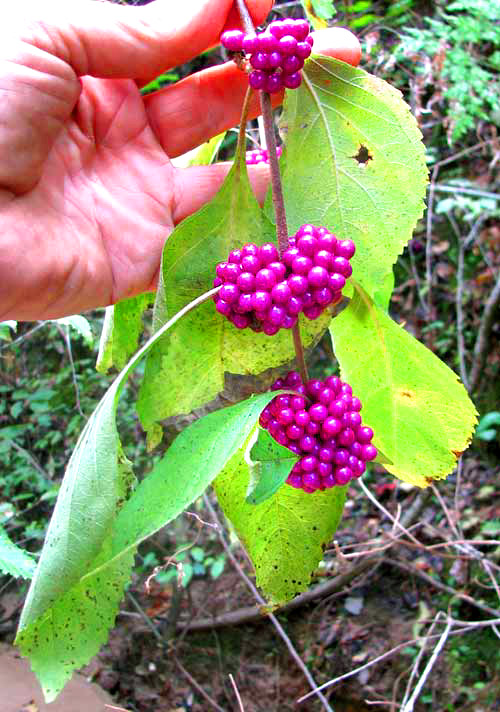 from the the October 18, 2009 Newsletter issued from the woods of the Loess Hill Region a few miles east of Natchez, Mississippi, USA
BEAUTYBERRIES BEING BEAUTIFUL
Above you see a fruiting stem of a bush fairly common in this area, one living up to its name, American Beautyberry. American Beautyberries are distributed throughout the US Southeast from Virginia to southeastern Missouri, but not as far north as my native home area of western Kentucky. It's CALLICARPA AMERICANA, a member of the Verbena Family
I read that the fruits are edible, being juicy, sweet, fleshy, and slightly aromatic, but when I've nibbled them I wasn't too impressed, finding them mealy and tasteless. I further read that they make a good jelly and that sounds like a much better idea than eating them raw.
A decoction of the head-tall shrub's root bark has been used as a diuretic, its leaves used to cure the swelling of soft tissues due to the accumulation of excess water, a tea from its roots used for dysentery and stomach aches, a tea made from both its roots and berries for colic, and some native North American Indian tribes used the leaves and roots in sweat baths for the treatment of malaria, arthritis and fevers. I read that the crushed leaves put into fishy water stuns the fish so they can be caught.
Whatever their edibility, the fruits' gaudy color really catches the eye these days, especially because in recent weeks it's rained so much here that plants are as green as if it were July.