Adapted from Jim Conrad's Naturalist Newsletter of October 8, 2007, with notes made during a visit to Nevado de Toluca Volcano, México State, MÉXICO
TIMBERLINE MONTEZUMA PINES
As soon as the ice melts from my tent fly I head downslope. Once below the timberline I locate a spring and erect my tent on a parklike ridge with widely scattered pines and more clumpgrass. You can see the view from my tent door below: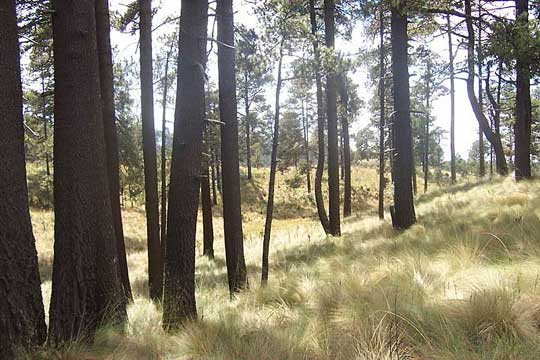 The pines are Pinus hartwegii, sometimes known as Timberline Montezuma Pines.
With that fine view, sitting in my tent as it glows in the afternoon sunlight, a mellow warmth overcomes me, almost the opposite to the feeling of all that sun and wind above the tree line. What a pleasing thing is a long afternoon nap in that glowing, peaceful spot.