A SIMPLE KEY:
just to show how keys work
A. Tracks grouped like the rabbit tracks shown at the right:
AA. Tracks not like those at the right: B
BB. Track showing toes: C
C. Tracks bounding (clustered in widely separated groups -- made by long, slender animals):

CC. Tracks lumbering (made by heavy animals): D
D. One foot with four toes, the middle two forming a conspicuous V (only Southeastern and south-central states):

DD. Not as above: E
E. Toes 4:

EE. Toes 5:

RABBIT TRACKS
each print about the size of a man's thumbprints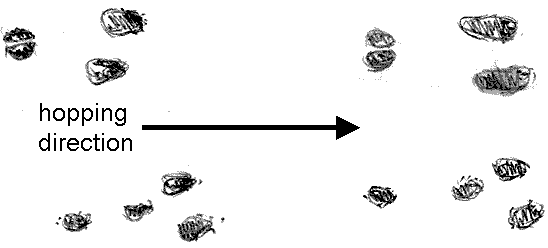 When rabbits travel, first their small front paws touch the ground, then the larger back feet travel over the paws still on the ground, and land in front of the planted front paws. Therefore, tracks of the front paws lie behind the tracks of the back paws.
The tracks at the top are produced by a rushing rabbit while those below, with the clusters of prints closer together and the front paws (the smaller tracks on the left in the cluster) are placed one above the other instead of together as at the top.