Excerpts from Jim Conrad's
Naturalist Newsletter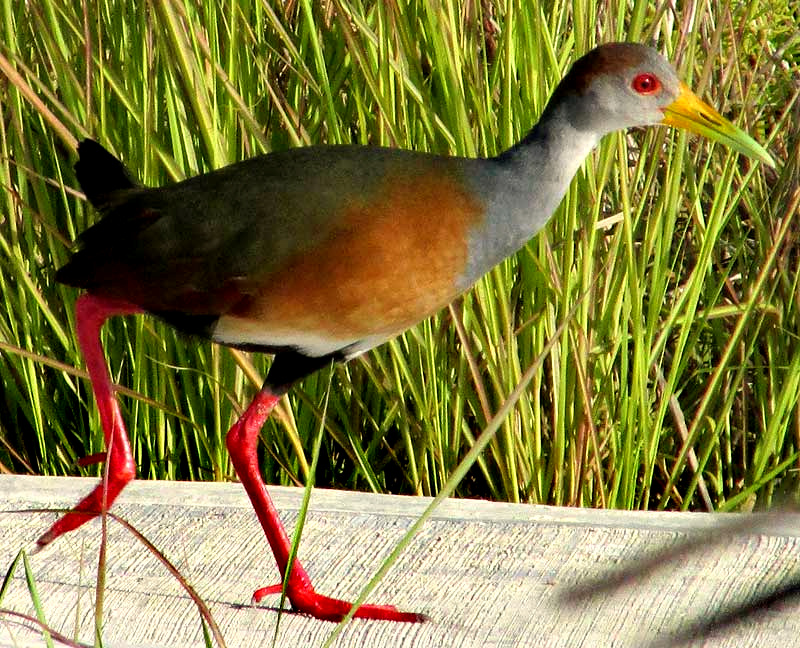 from the May 31, 2015 Newsletter issued from Río Lagartos, on the north-central coast of Yucatán, MÉXICO
GRAY-NECKED WOOD-RAIL
It's clear that our stubborn dry season, lingering later this year than it should, is affecting wildlife, because certain species are turning up in unexpected places. The other day a tourist told us that at dusk she'd been sitting in a restaurant in town when she looked down the street and saw a blackish cat much too large to be a house cat. Her description sounded like a Jaguarundi. Around mud puddles that used to be large ponds you can see many kinds of tracks, especially of peccary, raccoon and sometimes large cat paws, again probably Jaguarundi.
Among birds, most of the winter when we got to see Gray-necked Wood-Rails, it was something to get excited about, but it's nothing to see them along the road leading out of town through the mangroves.
Still, I was surprised to see a pair of Gray-necked Wood-Rails strolling down the sidewalk along the Malecón, where it extends south a bit on the town's southeastern shore. You can how pretty that looked at the top of this page.
---
from the August 28, 2011 Newsletter issued from Mayan Beach Garden Inn 20 kms north of Mahahual, Quintana Roo, México
GRAY-NECKED WOOD-RAIL
While standing hoping to see the Pygmy Kingfisher dive for something, movement on the right had me turning on and raising the camera before I knew what I was focusing on. You can see what materialized before me below: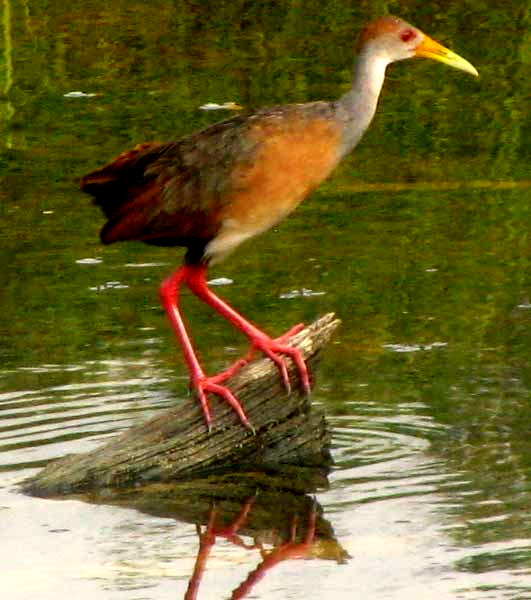 About the size of a normal chicken and shaped like one, too, except for that long beak, it had to be a rail, and rails are usually thought of as hard to see. It wasn't the North's Virginia Rail -- which does occur as far south as Guatemala but not in the Yucatán -- because it lacked that species' conspicuous black and white, Zebra-like barring across the lower belly. It was a rail species not found in North America: the Gray-necked Wood-Rail, ARAMIDES CAJANEA. And that bird is about as handsome as you can ask a bird to be, especially when it appears unannounced in such a pretty setting, it's red legs and eyes, and orange/yellow beak, simply refulgent against a pond's placid, green water.
Gray-necked Wood-Rails are distributed in swampy woodlands, marshes near woods and mangrove edges from eastern Mexico to northern Argentina. My impression is that the species isn't as shy as Virginia Rails. Back in the 70s several Gray-necked Wood-Rails used to hang out in a shallow pond in the Maya ruins of Tikal in northern Guatemala, right beside the main trail between the entrance and the big pyramid. Year after year the birds didn't seem to mind when Northern birders clustered around the pool watching them and snapping photos.
Marcia says that at certain times of the year wood-rails are commonly seen visiting our compost area.