Excerpts from Jim Conrad's
Naturalist Newsletter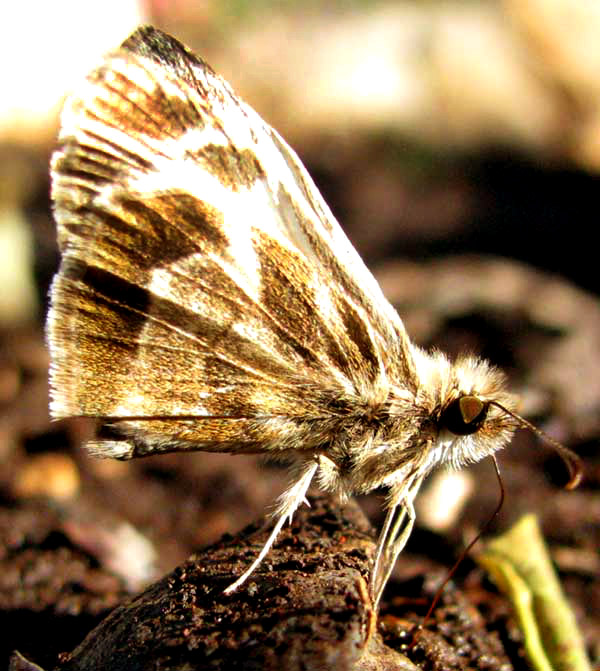 from the February 27, 2011 Newsletter issued from Hacienda Chichen Resort beside Chichén Itzá Ruins, central Yucatán, MÉXICO
TURK'S-CAP WHITE-SKIPPER
Until I began looking closely at our butterflies here I'd always thought that butterflies in the family embracing the skippers -- family Hesperiidae -- were nearly always dark brown or blackish. However, lately we've been running into various predominantly white ones, and this week butterfly identifier Bea in Ontario says that we have a new one, the one shown above.
That's the Turk's-cap White-Skipper, HELIOPETES MACAIRA, distributed from southern Texas south through Mexico and Central America to Paraguay in South America. Its habitat is described as forest edges and openings, thorn-scrub, weedy areas and brush, which is the setting of the hut where I took its picture drinking from a flowerbed I'd just watered. Caterpillars of this species feed on the young leaves, flowers and fruits of Turk's-cap Hibiscuses, or Tulipanes, of the Hibiscus-Family genus Malvaviscus, of which we have very many here.
You might enjoy reviewing the interesting variety of skippers we've so far identified in the Yucatan at the bottom of our Yucatan Butterfly Identification Page at http://www.backyardnature.net/yucatan/mariposa/ .