from the November 14, 2010 Newsletter issued from Hacienda Chichen Resort beside Chichén Itzá Ruins, central Yucatán, MÉXICO
GIANT MEXICAN SUNFLOWERS
Biking Pisté's backstreets I came upon the tallest member of the Composite or Sunflower Family I can recall seeing. At least 15 feet tall (4.5m), its lanky stems are shown next to a cinderblock house below: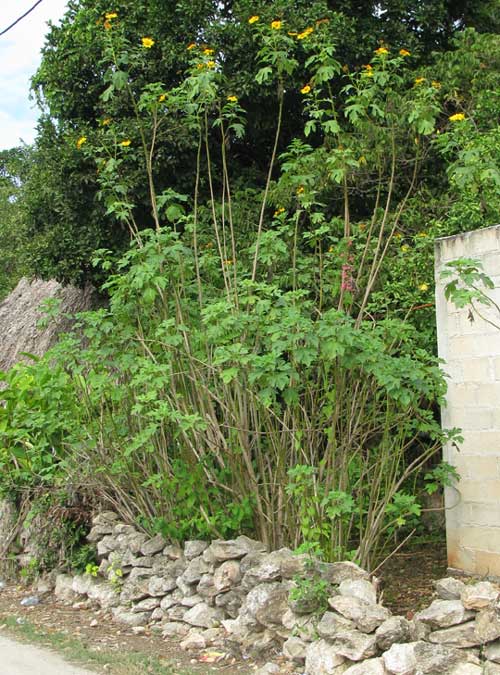 A close-up of a sunflower-like flower head consisting of many small, tubular "disk flowers" in the "eye" and several much larger, flat "ray flowers" suggesting petals on a real flower, and its deeply lobed leaves is below: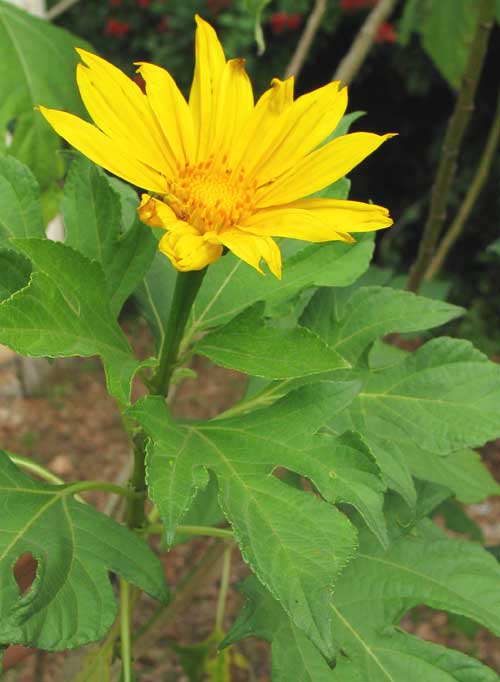 In that picture an important field mark helping to identify the genus is how the flower head's stem, or peduncle, thickens markedly at its top. That's a feature of the genus Tithonia, which embraces maybe ten species in Mexico and Central America. It's closely related to the Sunflower genus, Helianthus.
This is TITHONIA DIVERSIFOLIA, native to Mexico and Central America, but planted throughout the world's tropics. As such, it's known by many English names, including Mexican Sunflower, Tree Marigold, and Mexican Tournesol. A feature distinguishing it from some other Tithonias is shown below: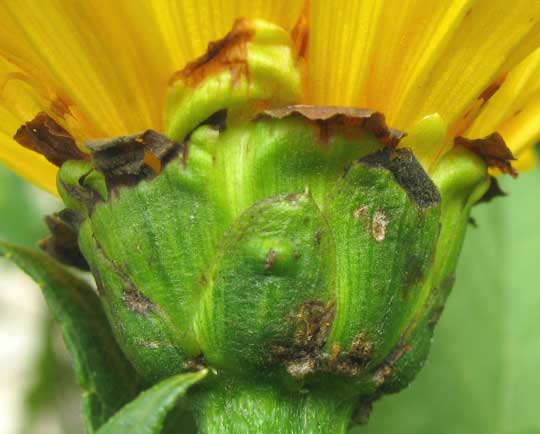 These are the "involucral bracts" -- modified leaves typically forming a green, cuplike affair out of which the disk and ray flowers arise. Notice that the bracts are rounded at their tops. In other Tithonia species they may gradually come to a sharp point -- be "acute" or "acuminate."
It's worth planting Mexican Sunflower if only to have such a big, prettily flowering shrub. However, I read that African farmers use it many ways, especially as an organic fertilizer for vegetable crops in either compost or tea form. Elsewhere it's considered to have important medicinal properties.
In China it's used for skin diseases, night sweats, as a diuretic, for hepatitis, jaundice and cystitis. In Taiwan tea made from it is supposed to improve liver function. This native Mexican plant is so well established in Thailand that it's the provincial flower of Mae Hong Son Province, and in Vietnam it's the unofficial symbol of La Lat city.
I asked my shaman friend José about it. He said:
"Because it grows so fast and so big beneath the sun, in the wind and rain, it soaks up these strong influences. Therefore, when a person has worked outside too much, the body absorbing so much energy from so many sources that you ache and feel bad, you can soak seven leaves from this plant, with some Rue (Ruta graveolens), and wash yourself with that water, letting it drain over your head, and it'll absorb those excess energies inside you, bring your energies back into balance, letting you feel good again... "