Excerpts from Jim Conrad's
NATURALIST NEWSLETTER
from the May 31, 2015 Newsletter issued from Río Lagartos, on the north-central coast of Yucatán, MÉXICO
TIGER-HERONS UP CLOSE
During most of the year when a Bare-throated Tiger-Heron turns up we regard it as something special. Nowadays they're fairly common and easy to approach during trips up the estuary, probably because of our especially long dry season, which already should have ended.
Whatever the cause, a recent shot of a tiger-heron close up is shown below: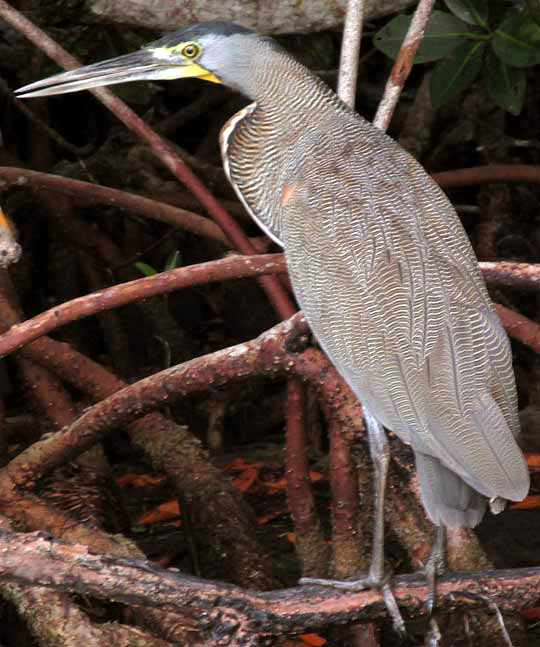 A close-up of patterning on this one's back is shown below: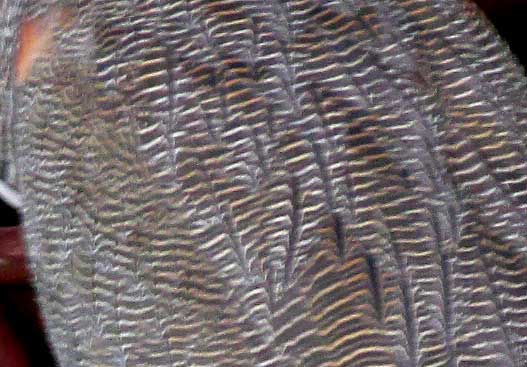 ---
from the June 19, 2011 Newsletter issued from written at Mayan Beach Garden Inn 20 kms north of Mahahual, Quintana Roo, México
BARE-THROATED TIGER-HERON
Out in the mangroves a loud, guttural, croaking WOK WOH-WOH erupted from not far away. I climbed onto a hummock and amidst a tangle of branches saw the bird shown below: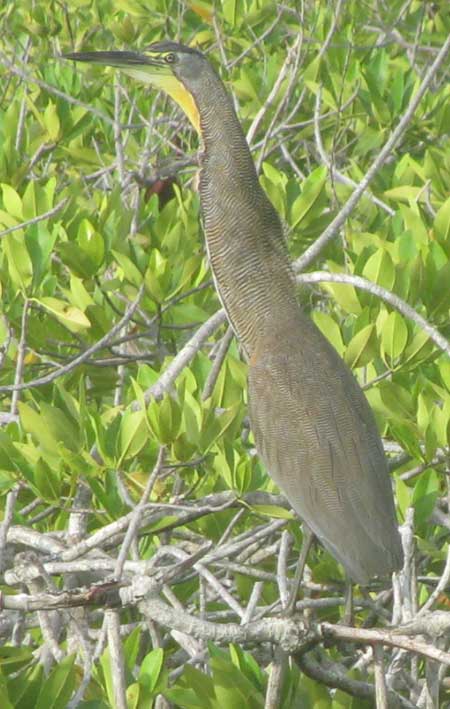 It was a big heron. Any Northerner at first glance would have called it a Great Blue Heron, but that species is mostly just a winter visitor here, plus Great Blue Herons have very slender, snaky necks, while this bird looked like he had a huge fish stuck halfway down. Also Great Blues have neither this bird's strikingly yellow gullet nor its narrow, oscillating barring. This was definitely something different.
It was a Bare-throated Tiger-Heron, TIGRISOMA MEXICANUM, one of only a handful of herons found here but not also in North America. Bare-throated Tiger-Herons are distributed in various freshwater and mangrove habitats, especially those with wooded edges, from Mexico to northwestern Columbia. Very rarely one makes a foray across the Rio Grande into southern Texas, where it's received by birders with jubilation.
Often when you see this bird it appears to have a much shorter neck, like a bittern or night heron. The one in the picture was stretching his neck, looking at me. Also, juvenile birds are strikingly barred with many narrow, dark bands across their bodies, inspiring the name "tiger-heron."
Some herons dramatically stalk and chase their quarry but watching this bird hunt was fairly boring. He just waited, or sometimes very slowly waded about, his neck held diagonally with his beak pointed downward.
---
from the September 4, 2011 Newsletter issued from written at Mayan Beach Garden Inn 20 kms north of Mahahual, Quintana Roo, México
A MORE TIGERY TIGER-HERON
The bird shown above is an adult with fairly inconspicuous stripes. A juvenile Bare-throated Tiger-Heron showed up this week with much more prominent barring, as you can see below: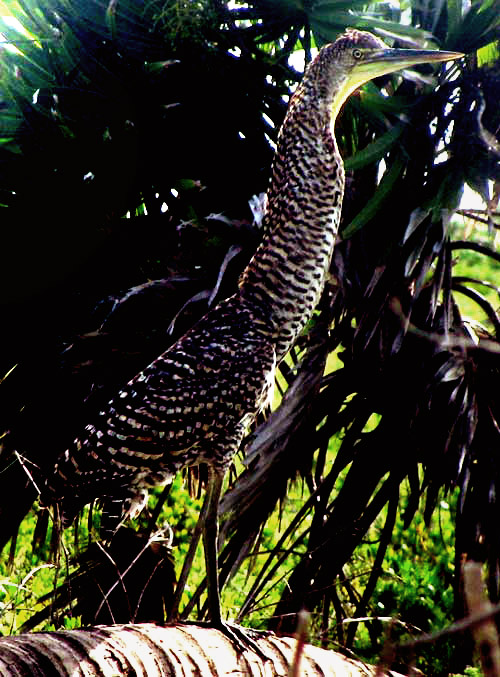 This young bird will remind some Northerners of bitterns, which have similarly thick necks and also are heavily striped. However, stripes on bitterns run up and down while the tiger-heron's are horizontal.