Excerpts from Jim Conrad's
NATURALIST NEWSLETTER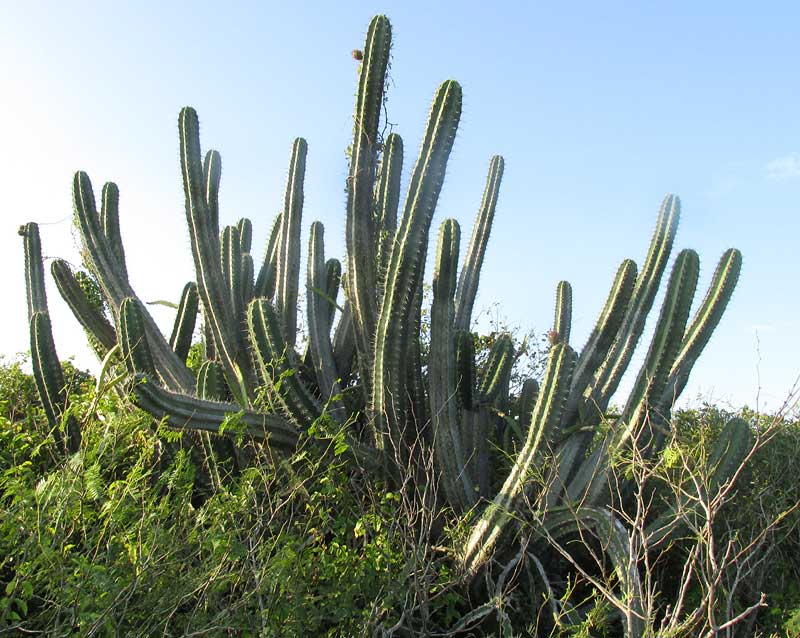 from the December 14, 2014 Newsletter issued from Río Lagartos, on the north-central coast of Yucatán, MÉXICO
STENOCEREUS ORGAN-PIPE
Up the Ría Lagaratos Estuary a few kilometers, a large, columnar, organ-pipe-type cactus beckoned from the shore-side scrub, looking a little different from the usual ones. Even from a distance, spherical fruits could be seen growing from its sides. I just had a feeling that this would be a good find. That's it above. You can see that its arms were of the kind with thick ridges, atop which clusters of spines projected in all directions from a common base. Below, you can see this better on a column top with an immature fruit attached: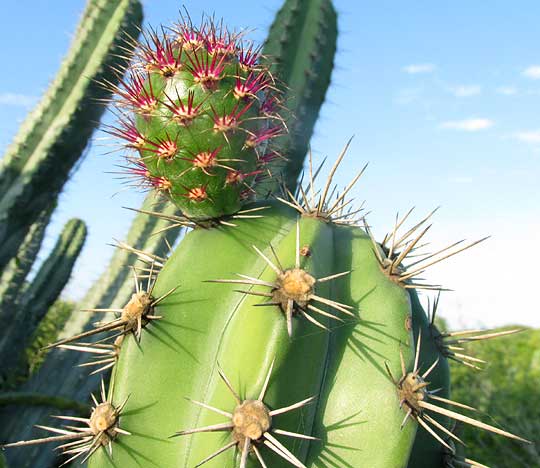 A close-up of the immature fruit bristling with red spines arising from fuzzy bases is shown below: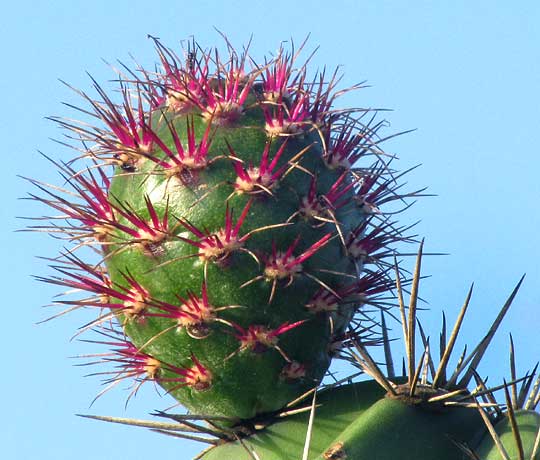 The pinkish, narrow spines on the developing ovary will fall off as the fruit matures. A closer look at a cluster of whitish spines that are not deciduous, occurring along the rib tops, is seen below: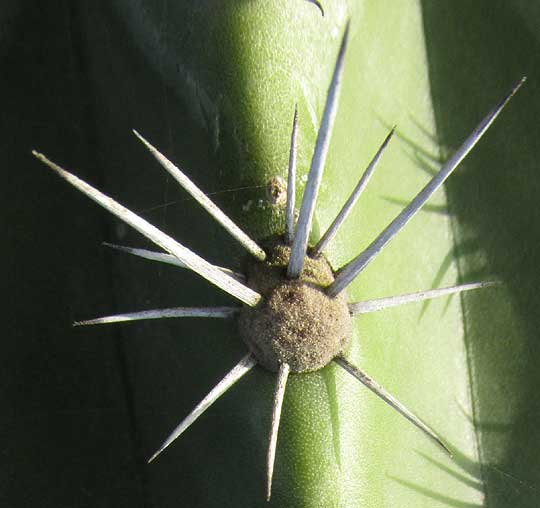 Once these details were taken in, I realized that we'd encountered a very similar cactus like this before -- back in the arid mountains of Querétaro in north-central Mexico. A picture of that handsome cactus, and a description of birds and insects feeding on its ripe fruits filled with red, sweet, wet pulp and seeds, is at http://www.backyardnature.net/q/organ-pi.htm.
Our Querétaro organ-pipe cactus was Stenocereus queretaroensis, endemic just to arid north-central Mexico. Our present find also is a member of the genus Stenocereus. It's STENOCEREUS LAEVIGATUS, endemic to arid regions of Guatemala and Mexico's southernmost state, Chiapas, and apparently to the Yucatan. I say apparently because the sources I find don't mention it as occurring here, except that it's listed in the Ría Lagartos Biosphere Management Program publication for our immediate area.
The cactus grew near ancient Maya ruins. Could the ancient Maya, known to trade salt from our local salt pans with locations as far south as the coasts of Guatemala and Honduras, have brought this cactus here from down south? They might have, because people as well as birds and insects love to feed on the fruits' sweet pulp. The fruits are called pitayas, though that name is applied to just about any large, edible cactus fruit.
---
from the January 18, 2015 Newsletter issued from Río Lagartos, on the north-central coast of Yucatán, MÉXICO
ORGANPIPE IN THE WOODS
In dense woods a few miles inland I thought I'd found a new-for-me cactus species when the 20-ft-tall (6m) organpipe-type individual turned up shown below: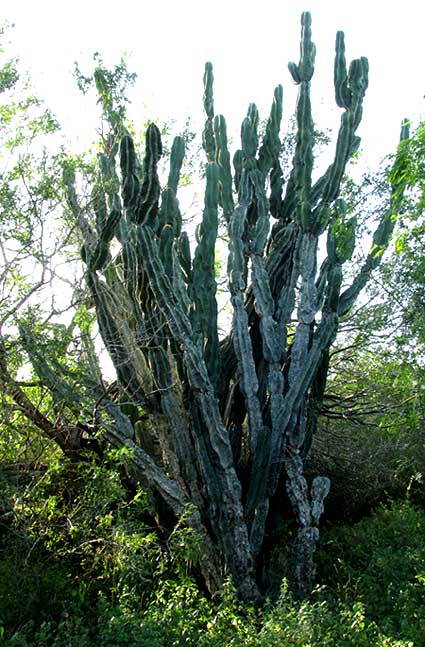 I'd certainly never encountered such a tall cactus in this area, so I set about "doing the botany." Below, you can see how thick the stems are relative to my hand:
A cluster of spines arising from a hairy mound -- the areole -- atop one of the cactus's stem ridges is shown below: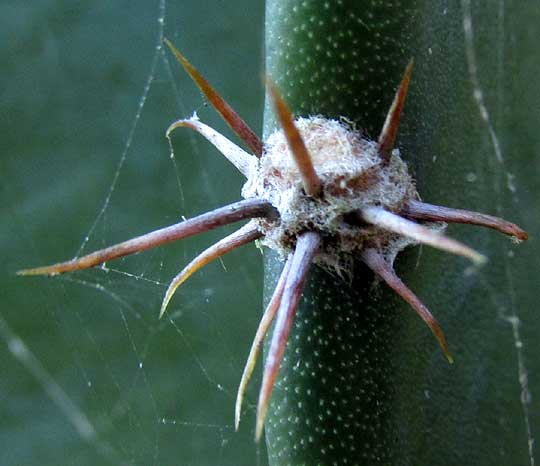 A view from below emphasizing a stem's "wings" is shown below: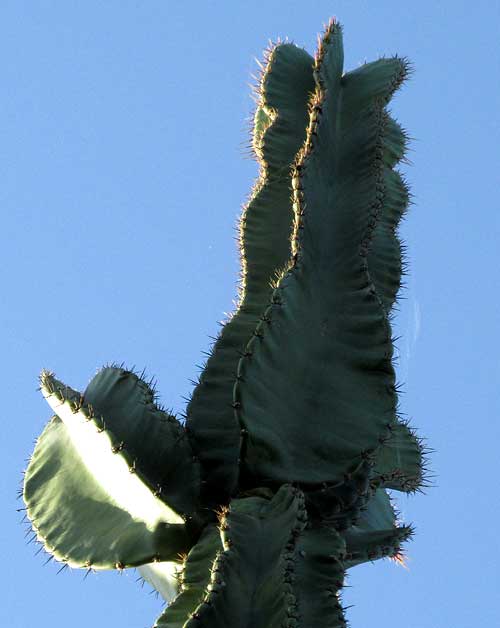 The cactus's base, white with lichens and scar tissue, is seen below: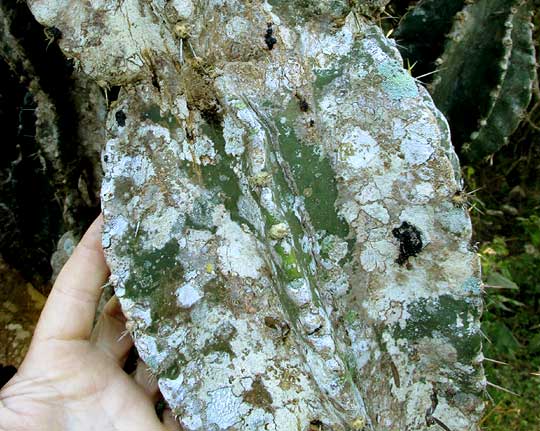 But, it wasn't a new-to-me species. It's the rare Stenocereus laevigatus. Other individuals I've seen of the species looked different because they were in full sunlight and not competing with surrounding tall trees. Previously seen individuals were shorter, more widely spreading, and the "wings"on their stems were much thicker, presumably fuller of water.
But, this is a good lesson on how one species can differ in its appearance, depending on its habitat.