Excerpts from Jim Conrad's
Naturalist Newsletter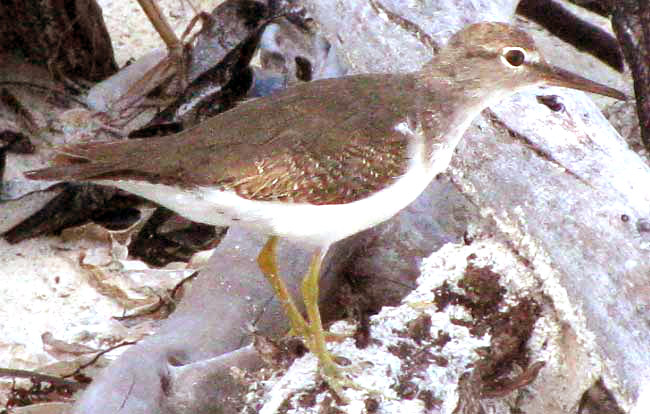 from the December 29, 2008 Newsletter issued at Mayan Beach Garden Inn on the Costa Maya, Quintana Roo, MÉXICO
SPOTTED SANDPIPER
"Teeter-Tail" is a name some people call the Spotted Sandpiper, ACTITIS MACULARIA, because as it walks it endlessly bobs its rear end up and down in a spectacularly exaggerated manner. And despite Spotted Sandpipers being conspicuously spotted during the summer, the one I encountered on the beach the other day didn't have a spot on it, as shown above.
Because the tail-bobbing makes this species so easy to recognize, and because it's such a common species in almost all environments with water nearby, including lazy streambanks and cattle ponds in the US, this is one of the best-known of American shorebirds.
I see Spotted Sandpipers much more inland than on sandy beaches. The one in the picture, in fact, behaved differently from other shorebirds I saw at the water's edge that day. Instead of running farther up the beach or flying away, this bird ran into a pile of driftwood and hid in the shadows as I approached quite near.
---
from the October 26, 2014 Newsletter issued from Río Lagartos, on the north-central coast of Yucatán, MÉXICO
SANDPIPERS IN WINTER PLUMAGE
Río Lagartos is situated on a broad-based peninsula projecting into a lagoon behind a long, narrow barrier island. Where the town meets the water there are no sandy or muddy beaches, but rather a knee-high stone wall you can sit on with your feet almost touching the water. This is not a good place for shorebirds who forage along sandy beaches. Still, a few shorebirds typical of sandy beaches do turn up, sometimes landing on heaps of seaweed and uprooted sea grass windblown into heaps against the wall's base, or maybe they land on fishing boats tied up to the wall, or on wooden poles sticking from the water, maybe where old boardwalks once stood, or boats tied to. You can see one such bird below: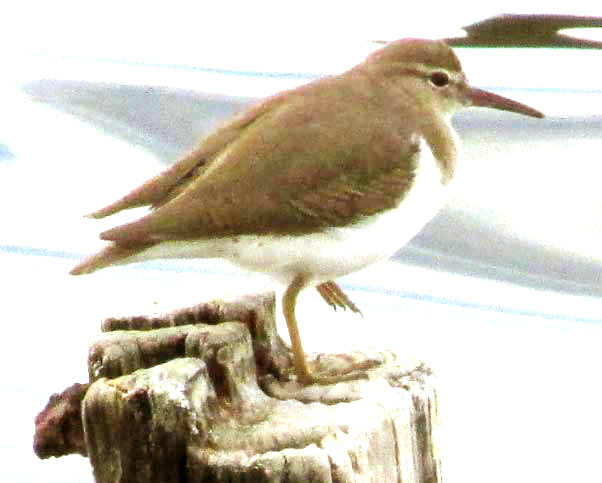 That's clearly a sandpiper, but its plumage doesn't match that of any species in my field guide, either the winter or summer editions. That's a constant situation here at this time of year -- shorebirds, gulls, terns and the like all display various stages of in-between plumage, and very often are hard to figure out.
Focusing mainly on the dark chest, at first I thought our bird might be a Least Sandpiper, but it just wasn't right. In the end, to be sure, I had to get help from birding master Dave in Bermuda who, with many years experience with coastal birds, pegged it as a Spotted Sandpiper, a common species, and usually very easy to identify not only because of its spotted underparts but because when it walks it bobs its tail up and down almost continuously. Both of those features are missing in this bird, though a couple of pale spots do barely show up just beneath the wing.
After being away from the coast for several years it's taking me awhile to get all these shorebirds and gulls straight in my mind again. However it's a pleasure to do so.