Excerpts from Jim Conrad's
Naturalist Newsletter
from the August 14, 2011 Newsletter issued from Mayan Beach Garden Inn 20 kms north of Mahahual, Quintana Roo, México
CALYPTRANTHES
The other day along the road through the swampland between Mahahual and Sian Ka'an Biosphere Reserve I came upon a tree about 15 feet tall (4.5m) of a kind I'd never seen before. That day I savored taking my time getting to know its distinguishing features. You can see its three-inch-long leaves (8cm) and a branch-tip cluster of pea-size, white flowers below: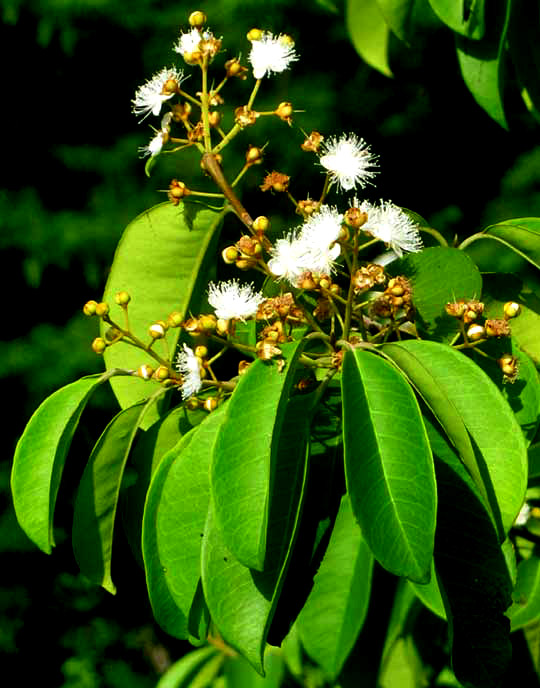 A white-petaled flower with its many stamens is shown below: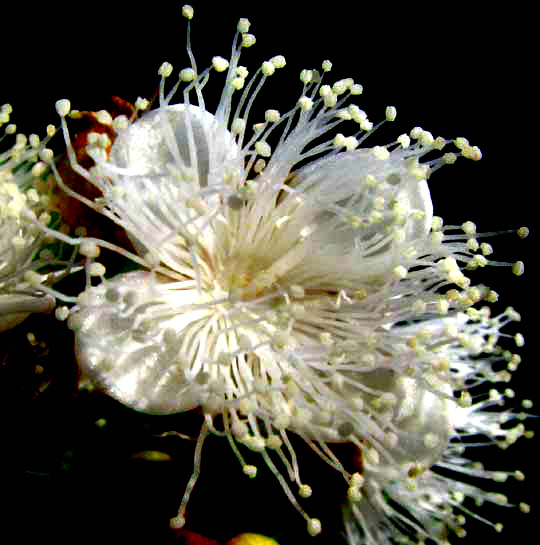 In the American tropics when you encounter a tree like this with opposite leaves (two leaves arising at each stem node) and the flowers containing many stamens, the first plant family you should think of should be the Myrtle Family, the Myrtaceae. If crushed leaves issue a strong, spicy aroma, that's confirmation that it's in the Myrtle Family. A crushed leaf of our tree did indeed emit a pleasant, spicy odor, and when I held a leaf against the sun I could see what's shown below: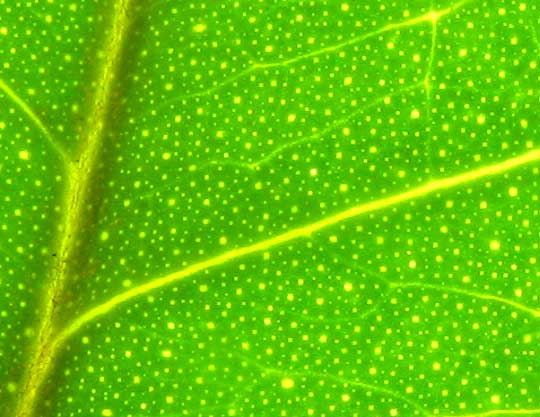 That image shows leaf veins running through a galaxy of glands embedded in a leaf, the glands filled with aromatic oils. When such leaves are crushed, the resulting fragrance comes from rupturing many of those tiny, oil-filled glands.
Once the family of a mystery plant is known it becomes much easier to identify it. There's a list of all flowering plants for our state of Quintana Roo, with the names organized by family, so by doing a Google image search on each Myrtle Family name on that list I didn't recognize, soon I figured out who our tree was:
It's CALYPTRANTHES PALLENS. Since the species also occurs in southern Florida, where it's a threatened specie, it bears English names such as Spicewood and Pale Lidflower. Other species also are called Spicewood, and "lidflower" doesn't befit such a pretty tree, so I'm just going to call this tree Calyptranthes.
Calyptranthes pallens is native from extreme southern Florida through the West Indies and Mexico well into Central America. In southern Florida's plant nurseries specializing in native plants, Calyptranthes frequently is sold.