from the November 8, 2009 Newsletter issued from Hacienda Chichen Resort beside Chichén Itzá Ruins, central Yucatán, MÉXICO
SOCIAL FLYCATCHERS UP CLOSE
In tourist places sometimes organisms that are hard to see out in the wild show up as if they want to display themselves. That was the case when I took my welcome meal in the Hacienda's open-air dining area, and a Social Flycatcher, MYIOZETETES SIMILIS, flew down onto the top of a chair at the table opposite me. You can see that bird staring back at me below: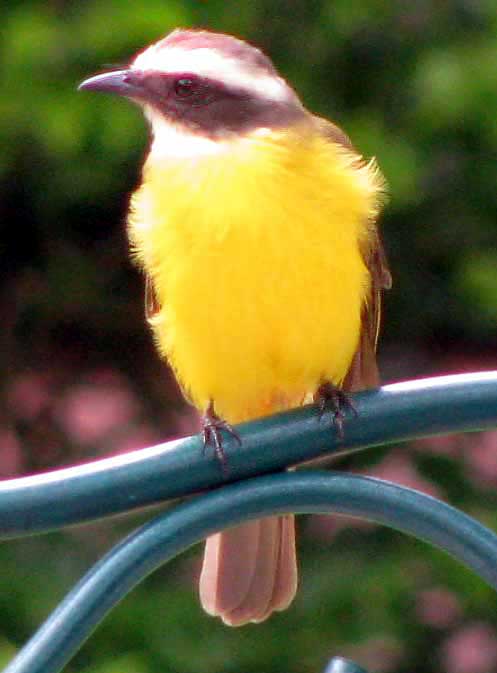 A backside view of the same bird is shown below:
Social Flycatchers are pretty common throughout humid, lowland Mexico, and all the way south to Peru and Argentina, but normally you see them in small flocks high in trees, always calling their shrill, monotonous t-cheer-cheer chee-tiquee, as Howell describes it. But here they seem to be curious about humans, and tend to flock with us.
Not only did I get a good close-up look at some Social Flycatchers, but also I got to see one do something special. A Chit fan-palm, Thrinax radiata, grew next to the dining area and was bearing a handsome cluster of white, marble-size fruits. A Social Flycatcher flew into the cluster, took a Chit fruit into its beak, and swallowed it whole. I've never seen any kind of flycatcher swallow anything like a palm fruit, but last Thursday it happened not six feet from where I was sitting.
Two other flycatcher species are very similar to this one, but they're larger and their bills are relatively longer. The other two species are the Great Kiskadee and Boat-billed Flycatcher, both found here. It's hard to judge sizes in the field, but the Social Flycatcher's sociality and that unending, nervous calling is all you need to separate them from the other species, which are more likely to be seen alone, and making very different calls.