from the September 4, 2011 Newsletter issued from Mayan Beach Garden Inn 20 kms north of Mahahual, Quintana Roo, México
SNOWBERRY
Lots of plants bearing white fruits are called snowberries. One of those, a shrub usually about eight feet tall (2.5m) is prettily fruiting along our roads nowadays, with white, pea-sized berries, as shown above. A close-up of some of the black-eyed fruits appears below: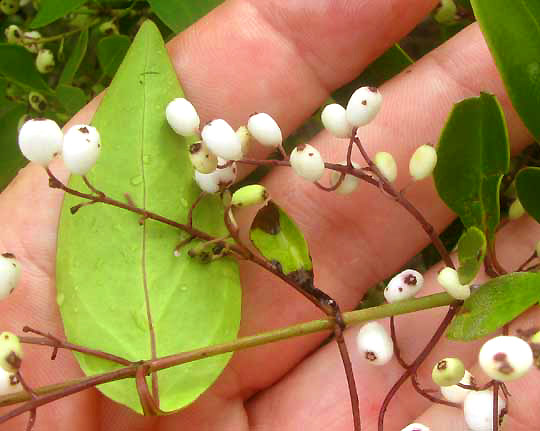 This dense bush with slender, brittle stems and opposite leaves (two leaves at each stem node) occurs from Florida and Texas's Lower Rio Grande Valley through Mexico and the Caribbean into South America. Occurring in several English-speaking countries, it goes by other English names than Snowberry, such as Milkberry, West Indian Snowberry, David's Milkberry and Davis Root. It's CHIOCOCCA ALBA, a member of the same family as Coffee and gardenias, the Rubiaceae.
That name "Davis Root" points to a time when Snowberry's roots were used medicinally, as a laxative, diuretic, emetic, and against diarrhea. Years ago the plant was sold commercially as a medicinal plant in Europe and the US.
Snowberry is one of those bushes that acts like it wants to be a vine; it leans onto and grows over other shrubs and trees. Some gardeners espalier it or train it to trellises.