Excerpts from Jim Conrad's
Naturalist Newsletter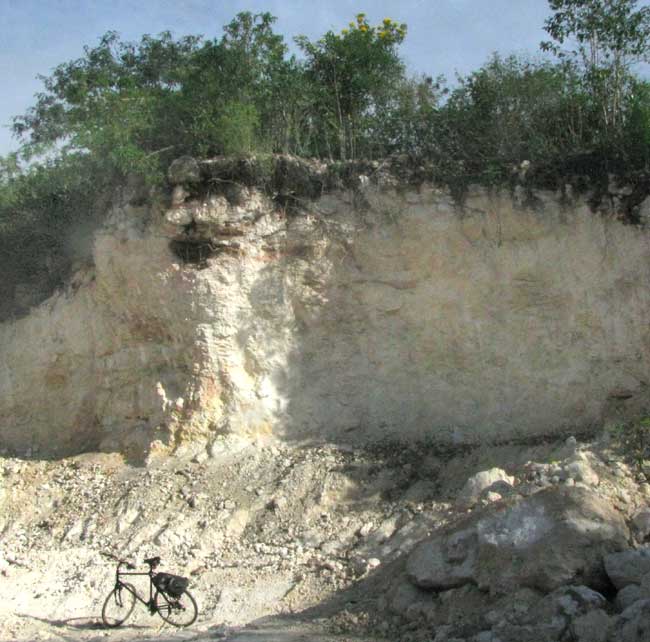 from the February 19, 2012 Newsletter issued from Hacienda Chichen Resort beside Chichén Itzá Ruins, central Yucatán, MÉXICO
SASCAB, "WHITE DIRT"
Along the little road south of Pisté, not far from the Municipal Garbage Dump, there's a quarry dug into a special kind of relatively soft, crumbly or even powdery limestone. The whole region is dotted with such quarries; I'm pretty sure the Municipal Dump itself started out as one. Sometimes in low roadcuts this kind of mostly unconsolidated limestone outcrops in layers just inches thick. Often in such places people have dug into the soft material with shovels and carried it away. You can see a quarry wall bove.
You can walk up to that wall and in most places scrape chalky powder away with a fingernail. Some spots are harder than others but in no place is there rock so hard you can't slice into it with a pocketknife.
This form of mostly unconsolidated limestone in Maya is called sascab. Chemically it's calcium carbonate, the same as the mineral calcite and hard limestone. The difference is that suscab hasn't undergone the crystallization process that calcite and hard limestone have. Crystallization can be accomplished, for instance, under extreme pressure, or through melting and cooling, or by being dissolved and then precipitated, like salt from evaporating saltwater.
Sascab isn't to be confused with caliche, which is soil crust or a layer of hard subsoil encrusted with calcium-carbonate, occurring in arid and semiarid regions. Nor is it coquina, which is rock composed mostly of fossils and is found above the water table. Nor is it "laja," the word used here for hard limestone rock exposed at the soil's surface or buried immediately below it.
Traditionally sascab was of enormous importance to the Maya. Not only did they use it as filling in their stone-slab-covered buildings and as road material, but also they burnt it in kilns to produce "cal" used in stuccoing their building walls. Cal is also put in water to help soften overnight-soaking corn kernels so they can be ground into masa for baking tortillas.
Nowadays sascab is used almost exclusively for making flat, fairly resilient surfaces, as for roads and house floors. Harder sascab lumps are soon pulverized by vehicles or feet. After a few rains a low grade cementation takes place. Sascab roads in dry areas last longer and are smoother than the gravel roads I grew up with, though with rain they may form potholes faster and deeper.
By the way, the Maya word sascab means "white dirt." Normally for "white" the Maya use sac, as in sacbe, a sacbe being the "white road" often seen interconnecting ancient Maya temples and population centers. The Hacienda property is crisscrossed by vegetation-overgrown sacbes. I asked my Maya friends why in sascab "sas" instead of sac is used for "white." After lengthy discussion they decided that "sas" really isn't a Maya word. It's based on sac, but in Maya it's just too ugly to say "sac-cab," so they say "sas-cab," which sounds better. Also, everyone writes sascab but my friends here pronounce the b so hard that the word sounds like "sascap."