Excerpts from Jim Conrad's
Naturalist Newsletter
from the September 25, 2011 Newsletter issued from Mayan Beach Garden Inn 20 kms north of Mahahual, Quintana Roo, México
AN UPSET ROADSIDE HAWK
One morning a Kiskadee was busy harassing a Roadside Hawk who has been hanging around for months. That's him expressing himself to his tormentor below:
Roadside Hawks -- that's their commonly accepted English name -- are buteos, in the same genus as the North's Red-tailed and Broad-winged Hawks.
---
from the November 17, 2008 Newsletter issued from Yokdzonot, Yucatán, México
ROADSIDE HAWK
Right after dawn along the road to Mexil I heard a hawk screaming, MEEEAHHH! MEEEAHHH! then a smallish, brownish, buteo with rounded wings and fairly long, narrow tail crossed the road and vanisheded. From his continuing calls I knew he was perched in a tree off the road, probably beyond sight. I continued down the road looking for an opening in the dense forest where I might spot him.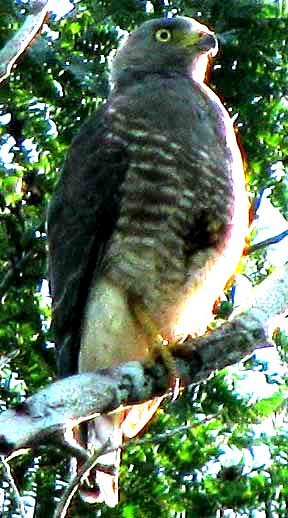 Instead of an opening I found the hawk's companion in plain view on a limb right beside the road. As the other called and called out of view, this one just looked down at me, with the sun behind it, thus silhouetted. I took a picture anyway and later with PhotoShop coaxed into existence the faded picture at the right.
This roadside hawk is a Roadside Hawk, BUTEO MAGNIROSTRIS. Roadside Hawk is the English name field- guide authors have settled on, and I have to agree that the species shows a special affinity for roadsides.
Good field marks for soaring Roadside Hawks include their relatively long tails held closed in flight and with two or three broad pale bands across them, and vague, rusty-red blotches on their outer wings -- "rufous panels in primaries," as Howell says.
The bird didn't seem to want to move. In my pictures I saw that either it was holding one leg up inside its feathers, or it was one-legged. Because of its hesitancy to fly, I suspect the latter.