Excerpts from Jim Conrad's
NATURALIST NEWSLETTER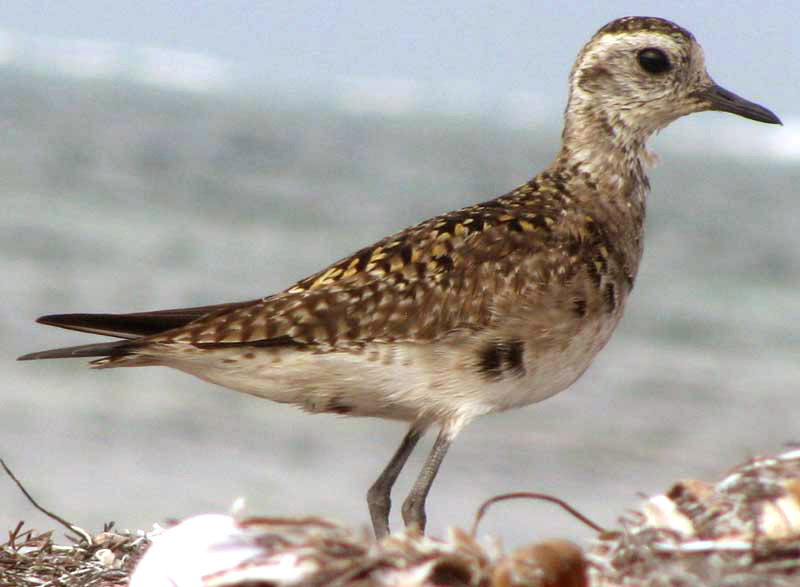 from the May 29, 2011 Newsletter issued from written at Mayan Beach Garden Inn 20 kms north of Mahahual, Quintana Roo, México
PASSING PLOVER
How do you get such a nice bird picture as the one shown above?
My approach was to go picking up trash along the beach, getting tired, deciding to take a snooze in a big bed of washed-up, dried Turtle Grass, then awakening to find the bird standing about ten feet from me already so accustomed to my presence that he didn't fly as I retrieved the camera from my pocket. More than once laziness like this has secured nice wildlife photos for me.
The bird's shortish bill with its slight bulge toward the tip meant that this was a plover, not a sandpiper, which generally have longer, more slender, straighter bills diminishing toward their tips. The black spot on the bird's side is the beginning of an extensive black bottom possessed by two plover species who migrate through here. Since the back's pale speckles are tawny or brown ("golden") instead of pure white, it was clear that this was an American Golden Plover, PLUVIALIS DOMINICA, and that was a treat to know.
For, American Golden Plovers nest in the North American Arctic, but winter in southern South America. In other words, the bird in the picture is only about halfway along on his migratory journey north; he still has a very long way to go. American Golden Plovers have one of the longest migration routes of all shore birds, over 25,000 miles (40,000kms) for a round trip.
Moreover, Golden Plovers don't migrate back south by the same route they take migrating north. In the spring, northbound birds like ours come up through Central America, then in places like Illinois stage in great numbers before making a final push northward. In the fall they return south by a more easterly route, flying mostly over the western Atlantic and Caribbean to their wintering grounds in Patagonia. During their easterly fall migration south, only a few birds rarely show up in Mexico.
Once breeding season is finished in the Arctic, adults leave in early summer while most juvenile birds remain behind until late summer or fall. With such a head start, many adults arrive back in Patagonia before the last juveniles even leave the Arctic.
So, for a long time I lay there in my Turtle Grass bed looking at this hand-sized little bird gazing out into the ocean, wondering what he thought and felt. Finally he looked over at me and for no reason I could discern issued a loud PEEP! and flew off down the beach.