Excerpts from Jim Conrad's
Naturalist Newsletter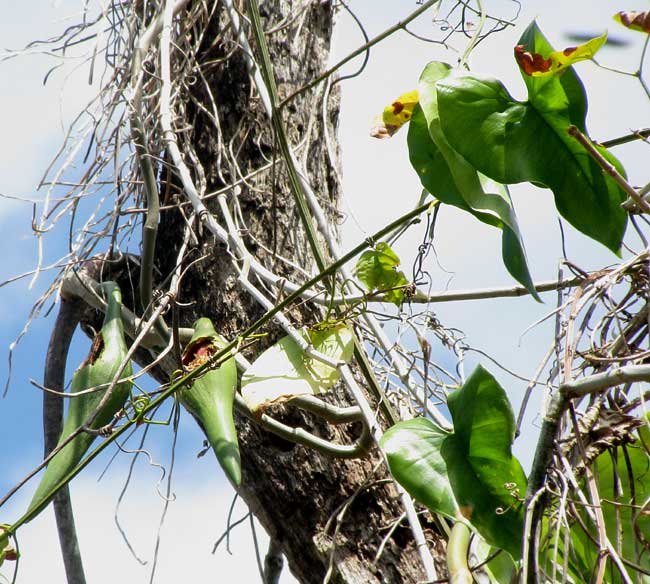 from the April 4, 2010 Newsletter issued from Hacienda Chichen Resort beside Chichén Itzá Ruins, central Yucatán, MÉXICO
A FRUITING PHILODENDRON
For months I've been watching for flowers and fruits on a certain aroid vine fairly common out in the forest. By "aroid" I mean a member of the Aroid Family, the Araceae. Aroids bear tiny flowers close- packed on a fingerlike "spadix," which is surrounded and often overtopped by a leafy "spathe." Jack-in-the- pulpit, anthuriums, caladiums, elephants-ears, and philodendrons are all aroids.
In fact, the vine I've been watching turns out to be a philodendron. You can see it 20-ft high in a tree above.
*NOTE FROM 2015: Now that more information is available on the Internet I can see that this is known as PHILODENDRON JACQUINII, and I read that in the past that name was confused with P. hederaceum. The species is a not-too-common one found from about here and southern Mexico south through Central America to northern South America
I'm guessing that this is*
PHILODENDRON HEDERACEUM, a wide-ranging, extremely variable species much grown indoors in pots up North
. Note its large, heart-shaped leaves, its loopy, silvery, fairly succulent stems, and, at the lower left, the two fruiting bodies. Each fruiting body bears a deep gash in its upper, left side caused by an animal. The actual fruits are like kernels on a corncob with the green spathe wrapped around it. It's normal for philodendron fruits to be fragrant when ripe so maybe a bird or fruit bat was attracted to the fruiting bodies by the fruits' odor and bit through the spathes to get at the ripe fruits inside.
I couldn't get at a fruiting body for a close-up without pulling down the whole vine, so I didn't.