Excerpts from Jim Conrad's
Naturalist Newsletter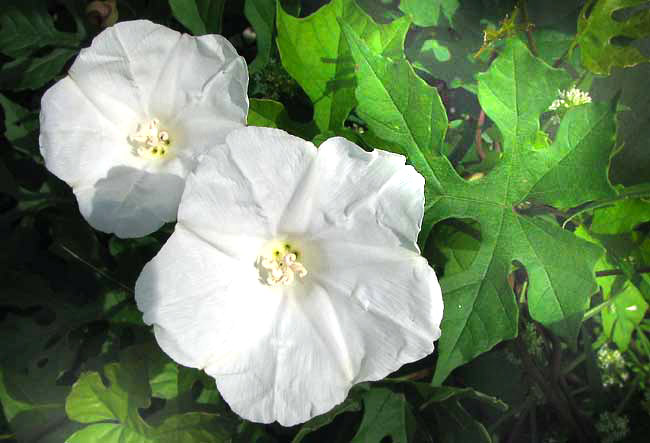 from the October 10, 2010 Newsletter issued from Hacienda Chichen Resort beside Chichén Itzá Ruins, central Yucatán, MÉXICO
"ROOSTER FOOT" VINE
We're entering that time of year when morning-glory vines start flowering, and I've never seen anyplace in the world with more morning-glory species than the Yucatán. We must be at or near the morning-glory center of evolution.
This week here and there along roadsides a conspicuous new morning-glory vine has appeared, with large, completely white flowers with spiraling anthers, and broad, deeply lobed leaves, with the lobes spreading like the toes of a chicken's foot. You can see it above.
In that picture notice the deep pits in the flowers' throats, where hummingbird or moths with long proboscises can sup nectar. A close-up showing the unusual spiraling anthers dusted with white pollen, with the spherical, fuzzy-looking stigma atop its long, slender style down at the bottom-left, is shown below: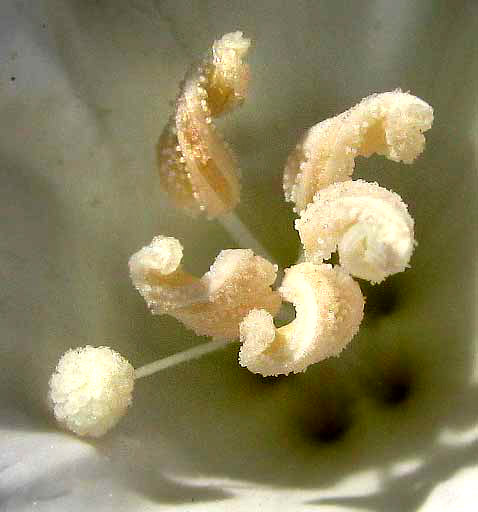 In Spanish this vine often is called Pata de Gallo, which means "Rooster Foot," because of the leaves' shape. It's OPERCULINA PINNATIFIDA, a species distributed from southern Texas through lowland Mexico into Guatemala.
The fruits are as unusual and interesting looking as the flowers. You can see one subtended by five sepals below: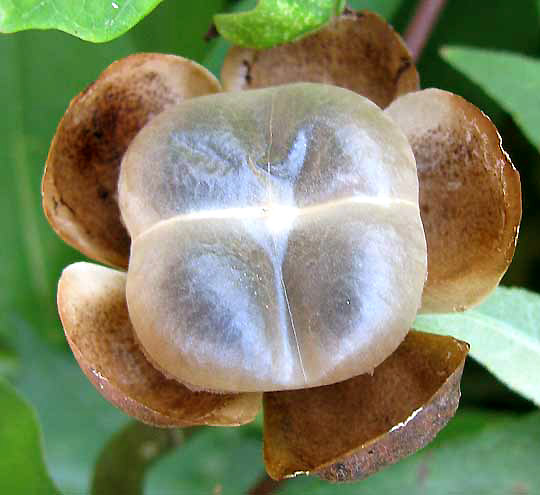 The bladdery item divided into four compartments is the mature ovary wall, or fruit husk. Inside each of the four cells lies a single large, black, hard seed.
Maximino Martínez's Las Plantas Medicinales de México reports that sometimes hemorrhoid sufferers carry the black seeds in their pockets to ease their pain. This is a good example of the Doctrine of Signatures, which states that medicinal plants may indicate their use by certain signs. In this case I suppose that the sign is the swollen bladder, which somehow is suggestive of what hemorrhoids feel like, even though they don't necessarily look that way.