Excerpts from Jim Conrad's
Naturalist Newsletter
from the December 22, 2008 Newsletter written at Mayan Beach Garden Inn on the Costa Maya, Quintana Roo, México
HAMBURGER BEANS
I've told you about seabeans -- seeds that float great distances and end up washed onto beaches. Certain folks have lots of fun looking for seabeans, identifying them, figuring out where they came from, and maybe even making jewelry from them. Last week some very serious seabeaners stayed at Mayan Beach Gardens and they seabeaned every day. That drew me to the topic of Hamburger Beans, for Hamburger Beans are seabeaning stables. They're something rare enough to be interesting but common enough to be obtainable. Several found by our visitors are shown below: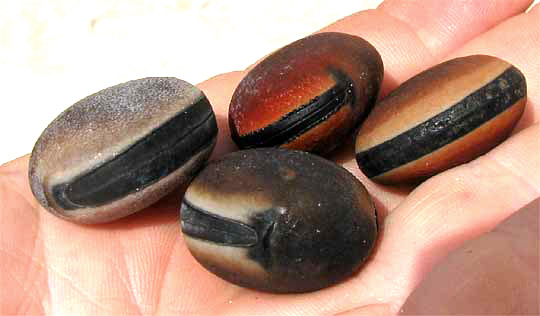 Two plant species are represented in that picture, both in the genus MUCUNA. About 160 species of Mucuna are recognized worldwide, most being climbing vines or shrubs. They're members of the Bean Family, the Fabacea, and produce alternate, 3-lobed leaves and bean-type flowers (papilionaceous) typical of Bean Family. The legumes producing the beans typically are clothed in stinging hairs. Back in my botanist days at the Missouri Botanical Gardens I learned about the genus Mucuna fast because anytime we dealt with a dried, pressed herbarium specimen, despite any care we took, we'd always end up scratching because of those stinging hairs.
In the picture, the two grayish hamburger beans up front were produced by Mucuna sloanei, and sometimes are called Brown Hamburger Beans or Horse Eyes. The species lives in swamp forests, at borders of rivers and lakes, in savanna woodland and wet places in secondary vegetation over a vast distribution area including Africa, the Caribbean and Pacific islands. A black dye is obtained from all parts of the plant.
More commonly found here than the Brown species are the two reddish-brown beans in the background. They're Mucuna urens, Red Hamburger Beans, distributed throughout much of the American Tropics as well as on Pacific islands.
These species don't live on sandy beaches. Hamburger beans found on our beaches sometimes are sprouting, but they don't grow into vines. However, if they wash into the ocean they're probably doomed, even if they're still alive after a transoceanic float. No Mucunas are listed as native to this state, Quintana Roo.
Your own seabeans can be identified on the web at the "Sea-Bean Guide" page at http://www.seabean.com/guide/.