Excerpts from Jim Conrad's
Naturalist Newsletter
from the August 25, 2008 Newsletter written in Sabacché and issued from a ciber in nearby Tekit, Yucatán, MÉXICO
MIMOSAS FLOWERING & FRUITING
The scrub surrounding Sabacché, as it was at my former locations in the Yucatan, is dominated by woody, frilly-leafed, often spiny members of the Bean Family. By "frilly-leafed I mean that the leaf blades are once- or twice-pinnately compound -- compound leaves composed of numerous smaller leaflets. You can meet some of the most common Yucatan members of this group at http://www.backyardnature.net/yucatan/bean-fam.htm.
Now in the heart of the rainy season our most conspicuously flowering of the group is MIMOSA BAHAMENSIS. Local people call it Catzin, but when I remind them that that's what they also call a common acacia with enormous, thick-based spines -- one of the Bull-horn Acacias -- they admit it's true, and add that it also can be called Sak-Catzin. "Sak" means white, and probably refers to the abundant white flower heads.
Sak-Catzin is a small tree very common along roadsides and recently abandoned fields. In other words, despite being woody, it's almost weedy. It seldom grows more than 15 feet tall. You can see its flowers and fruits below: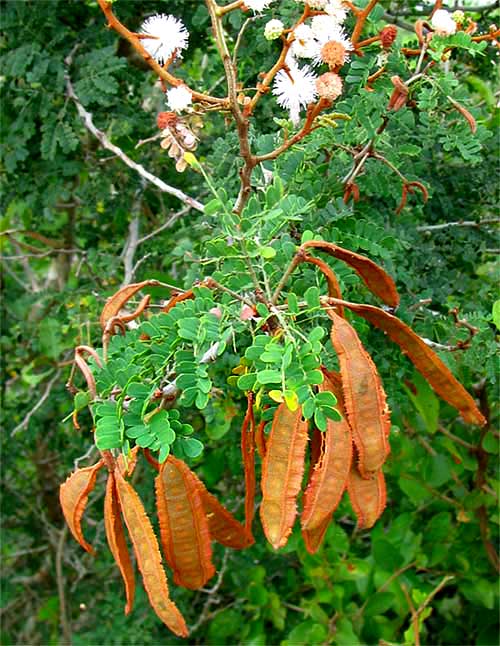 Though several members of the group produce fuzzy-looking, spherical flower-heads, this species' flat legumes are fairly distinctive with their brownish, papery, jagged wings along both sides of the flat pods' faces.
The local folks more or less ignore this plant, it being too small to produce firewood, and not known as being particularly medicinal, though some say somewhat vaguely that it has been used for baby medicine. Its abundant flowers do feed untold numbers of nectar- and pollen-seeking invertebrates, which in turn feed birds, which perform many services in the scrub, so Mimosa bahamensis is a good citizen nonetheless.