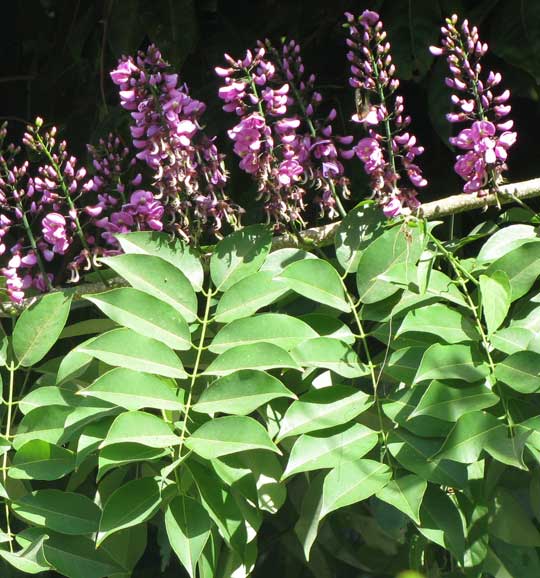 from the November 7, 2010 Newsletter issued from Hacienda Chichen Resort beside Chichén Itzá Ruins, central Yucatán, MÉXICO
A TAME BALCHÉ
Balché is a handsome, purple-flowered tree famous among the Maya for the drink made from its bark, much used in ceremonies. A while back I attended a ceremony during which we all drank balché from a jícara, a traditional bowl made from the spherical, gourdlike fruit of the Calabash Tree. The balché was made from shredded Balché-tree bark, cinnamon and a watery honey. Traditionally balché drink was fermented, but for our ceremony it wasn't. It was slightly bitter but sweet and cinnamony, with a little taste of woodsmoke. The table on which the shaman conducted his ceremony was covered with thickly strewn Balché-tree leaves.
By the way, all the books I've seen use the spelling "balché," which with that accented e is obviously the Spanish way of presenting it, and that means that it's pronounced with the emphasis on the second syllable. However, the shaman always placed his emphasis on the first syllable, pronouncing it "BAL-che."
Balché is a member of the Bean Family genus Lonchocarpus, and eight Lonchocarpus species are listed for the state of Quintana Roo just to our east. With no literature on the genus, I haven't been able to confidently identify the species we have here, though I've found at least three.
I'm guessing that the Balché very prettily flowering in Pisté right now -- shown at the top of this page -- is none of the locally native species of Lonchocarpus. Rather it seems to be a species native to the Lesser Antilles and Northern South America, LONCHOCARPUS VIOLACEUS. My reason for choosing that ID is that my picture matches others of that species found on the Internet, and Lonchocarpus violaceus is much planted in the tropics.
This species' individual flowers are worth a close look, not only because they're pretty but also because they are good examples of the Bean Family's "papilionaceous," or butterfly-like flowers, as seen below: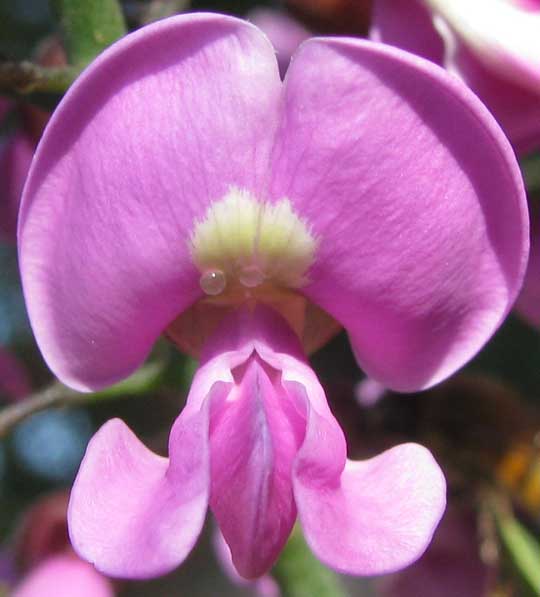 As with the above Pica-pica's papilionaceous flowers, Balché's flowers a big petal at the top called the "standard" or "banner"; the two side petals with their bottoms curing outward are the "wings", and; the two bottom petals are joined along one edge to form a boat-shaped, scooplike structure called the "keel."
---
SPECIAL FIELD NOTE FROM FEBRUARY 25, 2006, AT HACIENDA SAN JUAN NEAR TELCHAC PUEBLO, YUCATAN: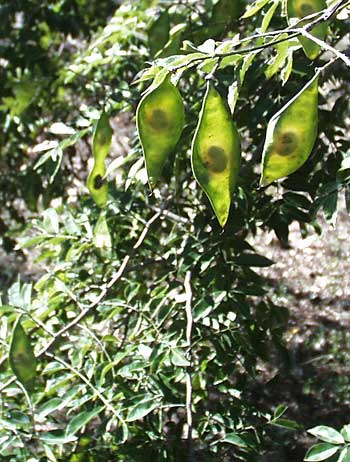 Balché's legumes, as seen in the upper right corner of that picture, are unusual because typically they contain only one seed. Nearly all other Bean Family legumes contain two or more seeds. The tree's once- compound leaves also are unusual because, as you can see at the lower left in the picture, they are dispersed evenly along the stem instead of clustering at the stem's tip, as with most trees.