Excerpts from Jim Conrad's
Naturalist Newsletter
from the February 21, 2010 Newsletter issued from Hacienda Chichen Resort beside Chichén Itzá Ruins, central Yucatán, MÉXICO
YELLOW JOYWEED ON THE WALL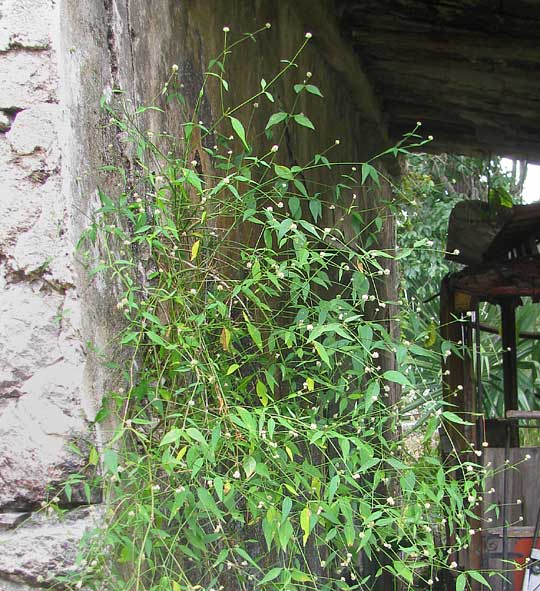 Growing from a crack in the church's rear stone wall for months an interesting "weed" has been developing. I've been looking forward to its flowering so I could figure out what it is. You can see it with its flowers above.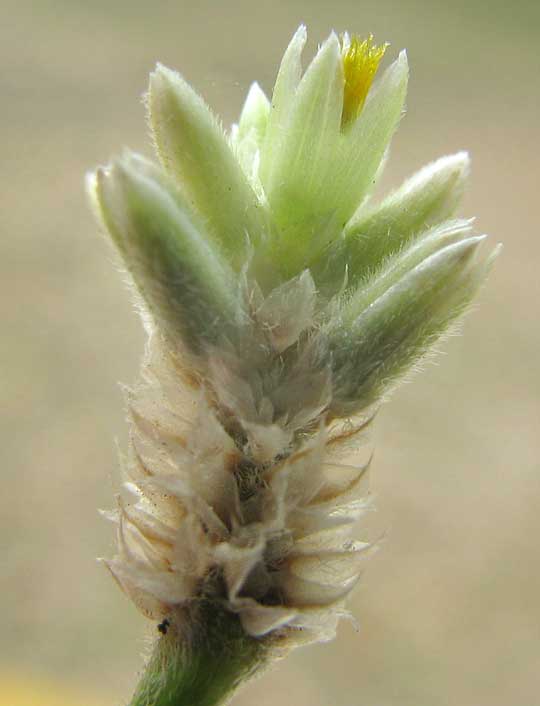 Above a close-up shows a flower head. Its most striking features how that it is a short spike in which each flower is subtended by sharp-pointed, papery scales. Whenever you see a flower head with such crammed-together flowers and conspicuous, papery scales, the Amaranth Family should come to mind. Our church-wall plant keys out to ALTERNANTHERA FLAVESCENS, in English often and inexplicably called the Yellow Joyweed. It's a native of Florida and the Yucatan south to the northern half of South America.
If you're familiar with waterweeds of the US Southeast you may see a strong resemblance between Yellow Joyweed's flower head and those of Alligatorweed, Alternanthera philoxeroides, which back in 2003, writing from near Natchez, I described as #1 on Mississippi's list of the Ten Worst Invasive Weeds. Alligatorweed, however, forms dense floating mats on lakes and slow-moving streams. That's a long way from growing from a chink in a church's limestone walls.