Excerpts from Jim Conrad's
Naturalist Newsletter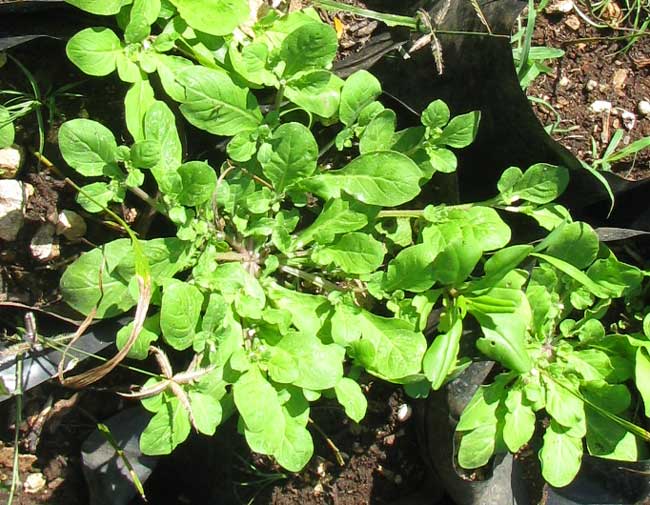 from the October 24, 2010 Newsletter issued from Hacienda Chichen Resort beside Chichén Itzá Ruins, central Yucatán, MÉXICO
JAMAICA WEED
If you bag several dozen Royal Palm seedlings -- which come up like weeds around here -- and regularly water them, what kind of weeds eventually appear in the pots? Of course there's a variety, but I was surprised that the most conspicuous and luxuriant one was the springy-green annual herb shown overflowing black bags above.
At first I thought that this was Corn-Salad, Valerianella olitoria, an eminently edible Old World herb that I used to pick and eat a lot of during my Germany and Belgium salad days. However, with the appearance of the weed's white, slightly irregular (bilaterally symmetrical) flowers -- just like Valerianella's blossoms -- I had something else. Corn-Salad flowers bear the unusual number of three stamens while flowers on our pot plant bore the more typical five. You can see a 1/8-inch long (4 mm) corolla split open to reveal five stamens attached to the corolla below: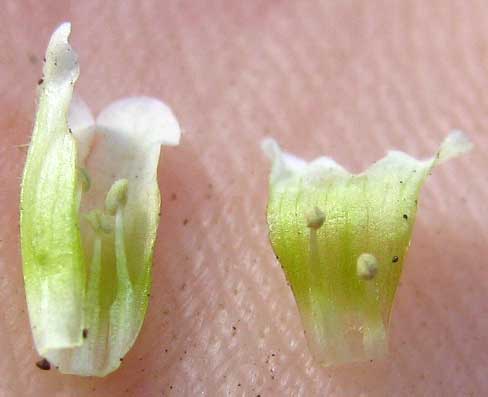 A picture showing an undisturbed flower snuggled in the angle of a hairy, dividing stem is shown below: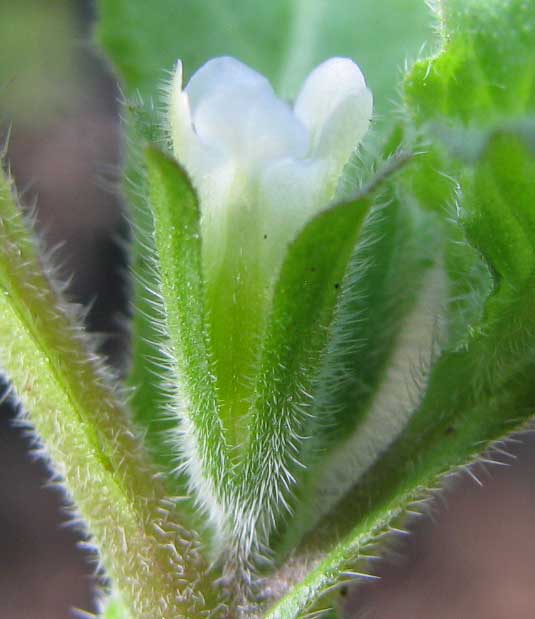 Another feature of this plant making it unlike Corn- Salad was how it formed something like a rosette, growing outward from a central point, and keeping very close to the ground. You can see that below: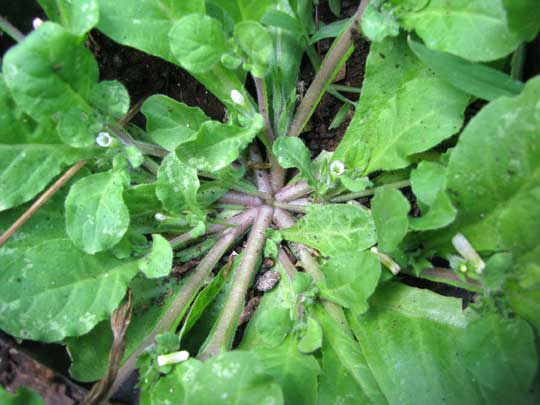 This is a widely spread tropical weed distributed from southern Florida and Texas south through here all the way to Argentina. It's NAMA JAMAICENSE, traditionally placed in the Waterleaf Family, the Hydrophyllaceae, but now many experts lump that family into the Borage or Forget-Me-Not Family, the Boraginaceae. That lumping is fine with me since I've never seen much difference between the two families. In Florida sometimes Nama jamaicense is called Jamaica Weed, and sometimes the 45 or so species in the genus are called Fiddleleafs. It's one of those cases when the English name hasn't been well agreed-on yet.
I don't find mention of Nama jamaicense's edibility, but Paul Standley reports it being used in the Yucatan as a "remedy for inflammation and blood vomit."