Excerpts from Jim Conrad's
Naturalist Newsletter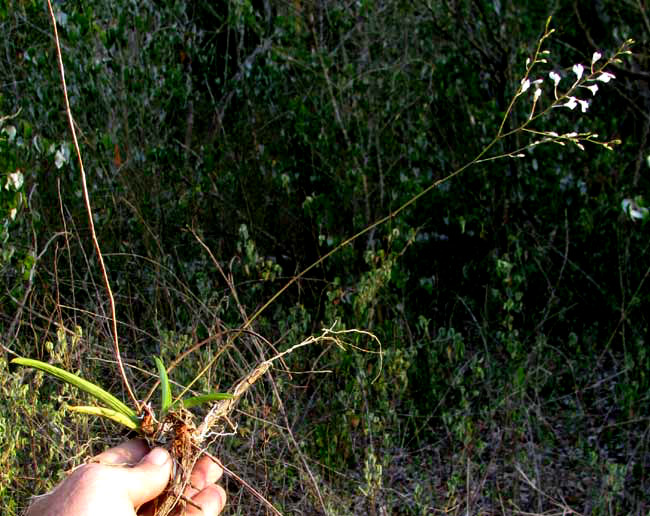 from the April 10, 2011 Newsletter issued from Hacienda Chichen Resort beside Chichén Itzá Ruins, central Yucatán, MÉXICO
IONOPSIS ORCHID FLOWERING
Most orchids need a good bit of humidity, so the Yucatán with its long, severe dry seasons isn't a particularly good place for them. So far we've documented four species around Hacienda Chichen, and I figured that that was about all I'd find. Then this week, along a forest trail, I noticed what's shown above.
That's the smallest, most fragile-looking orchid found here yet, one that had grown attached to a tree twig that broke and fell, catching in weeds at a trail's edge. You can see its thick, white, nitrogen-fixing, mycorrhiza-coated roots wandering over the dead twig and a dried leaf, and groping in the air for any support at all -- as well as a small, flattened pseudobulb emerging between the bases of the two leaves at the right in the picture -- below: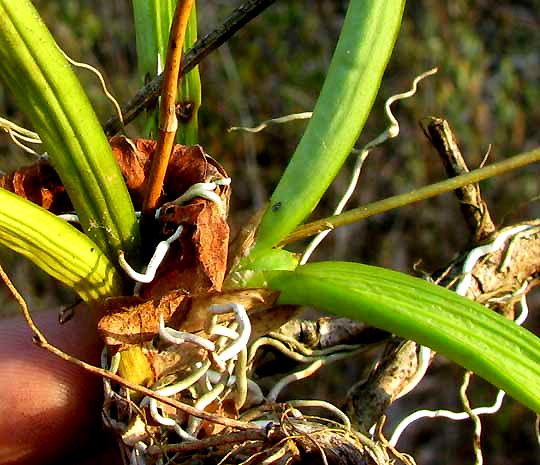 Seeing the orchid's small size, its roots' vigorous growth, and how the plant had attached itself to a small, too-flimsy twig to begin with, I figure that this species needs less protected and stable habitats than do most orchid species. I think it's a more opportunistic, drought-tolerant species than most.
You can see one of its pale, pink-striped flowers below: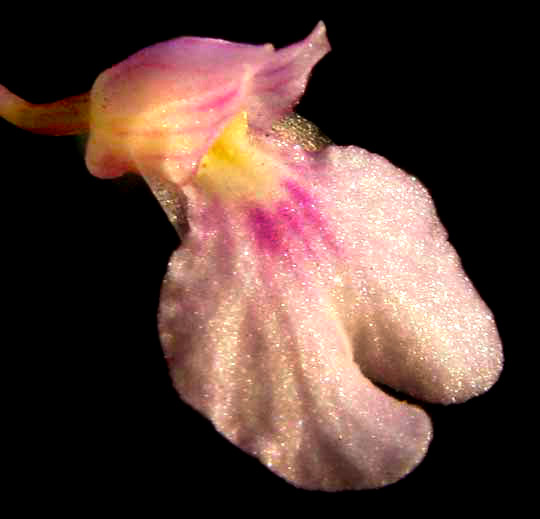 One of the most distinctive features of that blossom, helping in identification, is the small, rounded "spur" at the bottom, rear of the flower.
One English name for this orchid is The Delicate Violet Ionopsis. It's IONOPSIS UTRICULARIOIDES, found from Mexico and southern Florida through Central America and the Caribbean south to Paraguay and Brazil in South America.