Excerpts from Jim Conrad's
Naturalist Newsletter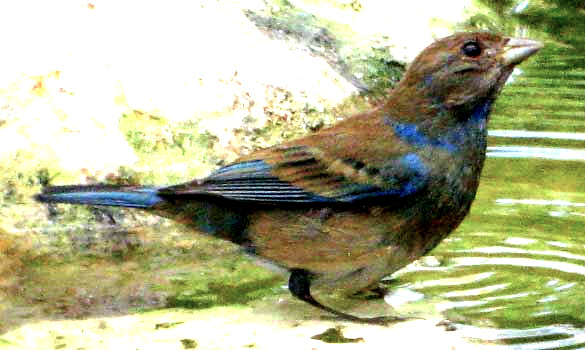 from the January 9, 2011 Newsletter issued from Hacienda Chichen Resort beside Chichén Itzá Ruins, central Yucatán, MÉXICO
A MOTTLED INDIGO BUNTING
Birders in the eastern US who treasure hearing the long, varied, languid, midday, midsummer calls of brilliantly blue male Indigo Buntings perched on power lines stretched across hayfields will be glad to hear that their little Indigos are down here, and at least some of them bathe in my birdbath. You can see one above.
That picture, a little grainy because it was taken in dim, late-afternoon light, is interesting because it shows a molting immature male. The blue feathers that this summer will set the male so prettily against the lighter-blue sky are emerging in patches.
Northern birders tend to think of Indigo Buntings in terms of a solitary male singing while the brown female hides someplace caring for the family. Down here you see then in flocks, sometimes in impressive numbers -- up to 150+ I read in Howell -- feeding inconspicuously on the ground. If you draw too close they fly up like a flurry of small, brown leaves returning to their trees.
Indigo Buntings during the northern winter are distributed from Mexico to Panama, but during the northern summer are completely absent from our area as they nest in eastern North America.
---
from the January 23, 2011 Newsletter issued from Hacienda Chichen Resort beside Chichén Itzá Ruins, central Yucatán, MÉXICO
JUVENILE INDIGO
The other day we looked a male Indigo Bunting, mottled brown and blue because he was molting here at his winter home. This week I got a nice picture of juvenile, considerably striped and with a hint of blue at the shoulder, as shown below: