from the March 7, 2010 Newsletter issued from Hacienda Chichen Resort beside Chichén Itzá Ruins, central Yucatán, MÉXICO
SCRUB PRICKLYPEAR IN FLOWER
Mexico is home to the greatest diversity of cactus species in the whole world, and the Yucatán has several species found nowhere else. However, the Yucatán's rarest and most interesting cacti cluster along the northwestern coast, which is the most arid part of the peninsula, not here in the central Yucatán. The plant list for the adjoining state of Quintana Roo lists fourteen cactus species for that state and I suspect that Yucatán state hosts a similar number.

One of the most common cacti around Hacienda Chichen apparently is a species endemic just to the Yucatán and southern Mexico. It's a pricklypear cactus growing ten-ft-tall and taller. By "pricklypear" is meant that it's a member of the genus Opuntia.

Pricklypears are cacti with spiny, succulent, beavertail-shaped stem joints, with each joint's edges capable of sprouting more joints. I'm identifying our tall pricklypear as OPUNTIA INAPERTA. The ID is based on word descriptions because I can't find a picture of the species. I always feel a little queasy about such identifications, though only four pricklypear species are listed for Quintana Roo, and ours doesn't seem to be the other three. Whatever the case, our pricklypear is unusual in that its joints are narrower than most other pricklypear joints, and the species thrives in thick scrub. You can see our species struggling for space in a leafless, dry-season thicket below: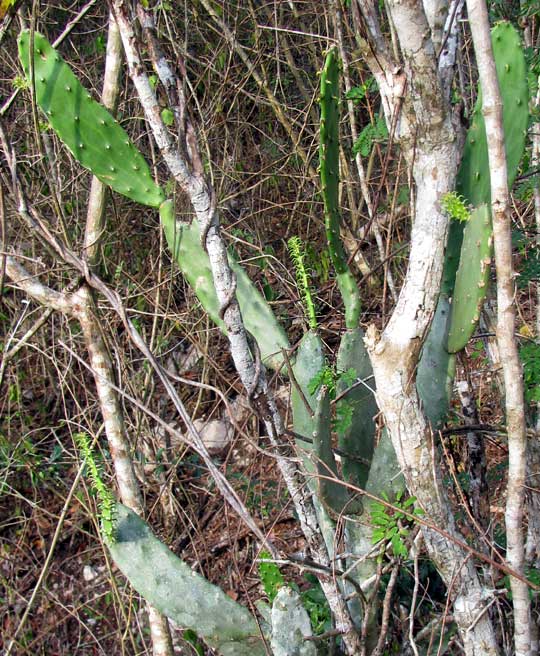 There's no English name for Opuntia inaperta so I just call it Scrub Pricklypear. Lately it's begun blooming, so here is one of the first (if not THE first) picture of its flower to be placed into the Public Domain: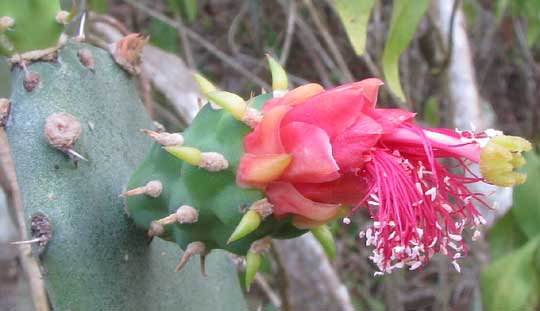 Its flowers are about 1-½ inches long (4 cm). The one in the picture is novel in that it emerges from the face of the joint instead of along the rim where most pricklypear flowers arise. Members of the Cactus Family produce flowers with inferior ovaries, meaning that the calyx and corolla arise above the ovary, not below it as in most flowers. Thus in the picture the oval, dark green item to the red corolla's left is the ovary, which later will develop into the fruit. Many male stamens with red filaments (stems) and whitish, pollen-producing anthers extend drooping from the corolla. A rather spectacular, yellow, six-lobed stigma (where the pollen germinates) tips a thick, white style, which is the ovary's "neck."
This cactus's much-branched upper part composed of green, beavertail-shaped pads arises from a base a bit thicker than my arm, and much like a typical tree's round trunk, except that it is spiny, as shown below: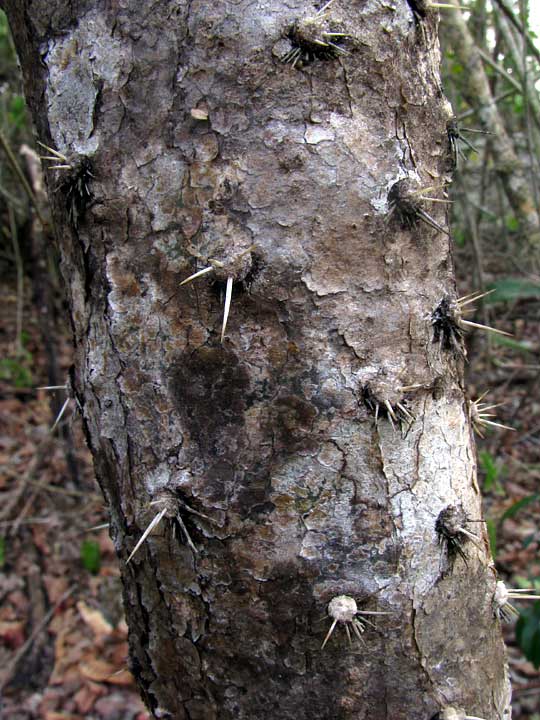 The dark, semi-woody trunk rises three or four feet before abruptly sprouting green pads.