At other places I've visited the Black Iguanas, CTENOSAURA SIMILIS, have been much more wary of being approached than those here. That's probably because here we don't have people and dogs likely to eat them. The other day a two-foot one perching on a rock let me get within six feet, making possible the portrait above.
Having such a detailed picture, it's interesting to look at some special iguana features. For example, in the picture follow the black line extending back from the eye and you'll come to a brownish, wedge-shaped depression, which is an ear. The various folds beneath the eye reflect the fact that, in contrast to snakes, most lizard types have eyelids. Many lizards have a well-developed pineal or "third" eye in the middle of the back of the head containing a transparent, light- sensitive disk thought to regulate hormones serving the animal's biological clock. I'm wondering if that sunken area behind the eyes and before the flap across the back holds this iguana's pineal eye?
Small, green iguanas are everyplace here but they're not Green Iguanas, Iguana iguana. You can see one below:

Both Green and Black Iguanas occur throughout southern Mexico and the adults are easy to distinguish from one another. However, young Green and young Black Iguanas can easily be confused since both are green and both bear broad, vertical, black bands. Green Iguanas spend nearly their entire lives in trees, however, and are seldom seen far from water, while these are ground- lovers and range far from water sources.
---
from the November 1, 2005 Newsletter, issued from Hacienda San Juan near Telchac Pueblo, Yucatán, MÉXICO
IGUANAS EAT BANANA PEELINGS, DOGS EAT IGUANAS
Possibly we have even more Black Iguanas, CTENOSAURA SIMILIS, here than at my location last year, though the ones here tend to be smaller.
I eat a lot of bananas and the iguanas eat my peelings. I place the peelings atop a stone wall in the sunlight and it's seldom long until an iguana appears. At first meeting the iguana flicks the peeling with his red tongue, waits a few seconds, then takes a bite and waits a while longer, and finally takes several more bites. Typically the lizard gets part of the peeling into his mouth, then vigorously swings his head back and forth just like a chicken with something too big to swallow. With both chickens and iguanas, sometimes the shaken thing breaks, with a piece of manageable size remaining in the mouth. Also as with chickens, the greater part of the shaken thing gets slung beyond reach. The iguanas knock far more peelings off the wall than they eat.
It's not surprising that iguanas would sling their heads like chickens. In biological terms, there's not much difference between reptiles and birds. Birds are almost nothing more than the feathered evolutionary remains of little dinosaurs.
When a chicken poops, the white paste on the poop is mostly uric acid -- urine with the water removed for recycling in the bird's body. The other day I saw an iguana relieve himself and there was no white paste to it. What came out could have been fox poop, and plenty of liquid streamed over the rocks below.
Last year at Komchen the dogs chased iguanas but I never saw an igtuana get caught. Here iguanas regularly get caught and eaten. One dog, a German Shepherd, spends many afternoons barking interminably at a pile of rocks with an iguana inside it. Another, a little brown bitch with one drooping ear and big black teats, eyes an iguana-chasing situation and either attacks instantly or walks on, and if she attacks she often gets her iguana without a bark.
Different philosophies of life...
---
from the February 27, 2011 Newsletter issued from Hacienda Chichen Resort beside Chichén Itzá Ruins, central Yucatán, MÉXICO
AN IGUANA EATS MY YELLOW COSMOSES
One morning half my bed of French Marigolds turned up missing. At first I blamed rabbits because most plants had been severed halfway up their stems, and I've see rabbits eat like that. Birds tend to pull up the whole little plant, then leave much or most of it on the ground. But my friend José pointed out that around here you hardly ever see a rabbit. It was much more likely that my flowers had been eaten by iguanas, which forage both during the day and night.
I salvaged what plants I could and transplanted ones from where they'd grown too close together to where nothing remained, and hoped that sprouts might emerge from the stumps. An then as I rested from that work, sitting in front of the hut, in broad, late-morning daylight, here came lumbering across my open area a 2½-ft-long (75cm) male iguana, showing no concern at all about entering my living space. He slid his big belly and spiny-topped tail over the marigold bed I'd just replanted, gobbled down most of a weedy amaranth, and as my camera was grinding to life he traversed a bed of young purslane, pushed his front end over a jagged rock used as a bed-border, and took into his mouth one of my Yellow Cosmoses, as seen below: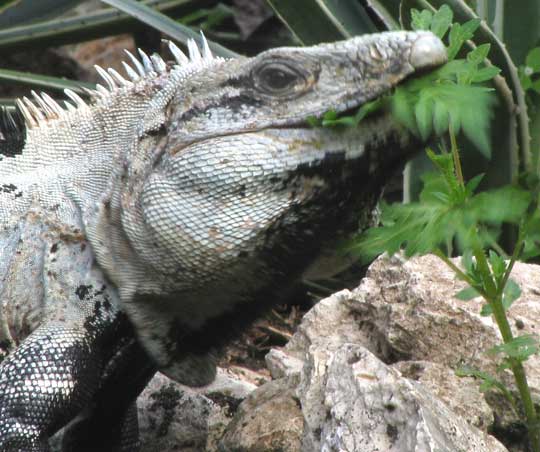 Picture taken, I ran at him shaking my walking stick, thumping the ground with it. The brute just looked at me as if I had no right to distract him from his meal. A good prod in the side, though, and off he went, half-heartedly, the injustice of it all clearly expressed in his glaring eyes and body language.
Since that encounter each day the big fellow saunters past the hut, taking his time, and really I don't think he's particularly interested in my flowers. He just gets walking in a certain direction and eats a little of whatever he blunders into, and for awhile there he was blundering into my flowers.
---
from the February 27, 2011 Newsletter issued from Hacienda Chichen Resort beside Chichén Itzá Ruins, central Yucatán, MÉXICO
IGUANA DIGESTION
Actually, the matter of iguana digestion has its interesting points. A surprising amount of information is available, maybe because so many people keep big iguanas as pets, and in some developing countries they're looking at farming larger iguana species for food.
We tend to think that digestion in human guts is neatly handled by gastric juices, which antiseptically melt what we eat into useful chemical compounds. We ignore the fact that human guts host more than 400,000,000,000,000 microbes of at least 400 types, which means that our guts amount to seething, bubbly stews of microbial action. It's even much more so with big, plant-eating iguanas such as our Black Iguanas.
In fact, three main conditions are necessary for our big iguanas to digest their food properly: The presence of elevated heat (attainable while basking in sunshine); gut microbes that break down what's eaten, and; the process of fermentation, which does magical things to otherwise indigestible food.
Remembering that to a certain point heat tends to speed up chemical processes, and that our own guts are microbe heavens, the importance of elevated heat and gut microbes doesn't surprise us. However, I hadn't realized that the process of fermentation is so important.
In the context of food processing, fermentation is regarded as the conversion of carbohydrates such as cellulose, sugars and starch to alcohols and carbon dioxide or organic acids. Yeasts and/or bacteria accomplish the conversion. Maybe the most distinctive feature of fermentation is that by definition it's accomplished without oxygen. It's an anaerobic process.
When I watched my Yellow Cosmos disappear into the maw of the big iguana, most of the plant's non-water content was carbohydrate, and the same was true of all the other herbs the big lizard had eaten that day. In the oxygen-poor environment of the iguana's gut, fermentation is what turned the cosmos's indigestible cellulose, fiber, etc. into simpler compounds easier for the iguana's body to absorb and work with.
---
from the February 27, 2011 Newsletter issued from Hacienda Chichen Resort beside Chichén Itzá Ruins, central Yucatán, MÉXICO
FIGHTING IGUANAS
Visitors often photograph the Hacienda's Black Iguanas basking atop stone walls, in trees and lumbering across the ground. The other day I came upon two in the parking lot clinched together fighting, shown below: