from the October 27, 2008 Newsletter issued from Yokdzenot, Yucatán, MÉXICO
HUANO PALM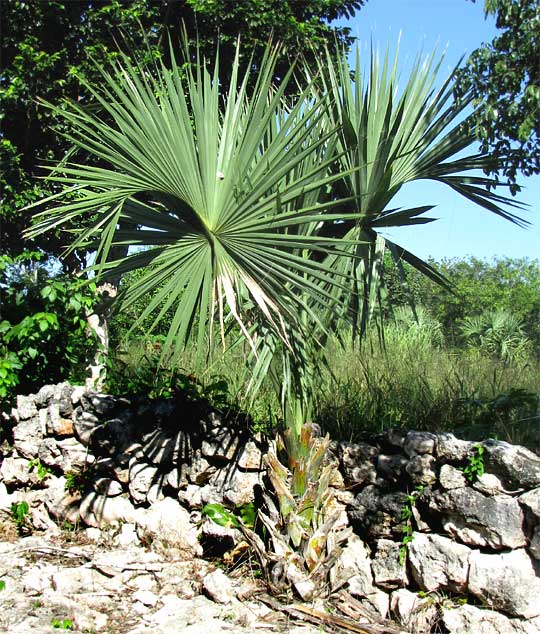 Above you see an eight-ft-tall palm common around here, SABAL YAPA. Sabal species are recognized by North Americans as the palmetto palms so typical of the US Deep South. Here the Maya refer to Sabal yapa as Huano (WAN-oh). Most of the palm's fronds in the picture have been removed because people here use them for thatching roofs.
When identifying palms a point to keep in mind is that the vast majority of palm species fall neatly into one of two broad groups: the fan palms, whose leaf segments radiate from the top of the leaf stem, or petiole, forming a ± circular blade, and; the feather-leaved or pinnate palms, such as the Coconut Palm, whose leaf segments arise from a rachis passing through the center of a long leaf blade, like pinnae arising from the rachis of a feather
Palmettos are regarded as fan palms, even though their blades don't fit the fan-palm pattern exactly.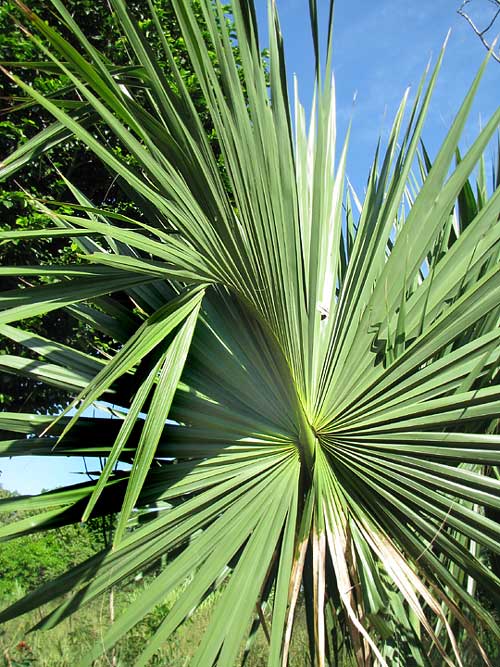 Above you can see how the Huano's petiole, shooting up from the lower right, continues a bit up through the blade, but grows narrow fast, and soon piddles into a little droop, resulting in the frond being ± circular in outline but with an asymmetrical crease in the middle. Palmetto blades suggest a transition phase between fan palms and feather-leaved palms. Palm blades exhibiting this curious midrib behavior are said to be "costapalmate," and this costapalmateness makes palmettos easy to distinguish from other fan palms in the field. Palmettos are also distinguished from other fan palms by their blade stems, or petioles, NOT bearing spines.
Don't confuse smooth-petioled palmettos in the genus Sabal with saw-toothed-petioled SAW Palmettos of the genus Serenoa, often forming dense, leg-chewing thickets along the US Coastal Plain from South Carolina to Mississippi. Palmettos and Saw Palmettos are two different things.
Huano can grow into a tall, slender-trunked tree, as the following picture showing three Huanos in different stages of development shows::
Embracing about 190 genera and 2000 species, the Palm Family, the Arecaceae, is big and varied. Sixteen species are recognized in the Huano's genus Sabal, and most Sabal species cluster around the Caribbean Sea.
---
from the February 7, 2010 Newsletter issued from Hacienda Chichen Resort beside Chichén Itzá Ruins, central Yucatán, MÉXICO
THATCHING THE MAYA HOUSE'S ROOF
Work on Hacienda Chichen's traditional Maya house continues. This week Paulino and Santos have been thatching the roof with Huano Palm fronds. Last weekend a truck arrived carrying big bundles of Huano fronds tied together with the ropy stems of "Tropical Grapevine," Cissus sicyoides, as shown below: