Excerpts from Jim Conrad's
Naturalist Newsletter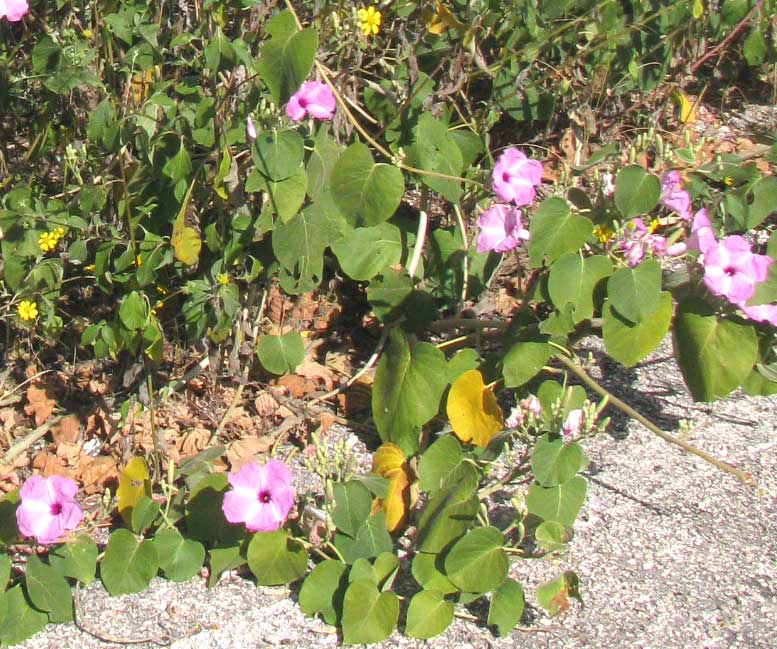 from the January 16, 2011 Newsletter issued from Hacienda Chichen Resort beside Chichén Itzá Ruins, central Yucatán, MÉXICO
GINGER-LEAF MORNING-GLORY
With the dry season bearing down so, many herbs have died back and many trees have lost their leaves or are in the process of losing them. Even the weedy morning- glories that a month ago put on such a show are withdrawing, the landscape appearing ever browner and "wintry," despite the hot afternoons.
However, among the morning-glories, there's a handsome exception. Here and there along weedy roadsides a pink-flowered morning-glory with long, trailing, tough stems bearing leathery, semi-succulent, three-inch-broad (8cm), heart-shaped leaves twines among weeds and cascades onto the pavement. It's shown above.
This is a lot like the Goat's-foot Morning-Glory we saw scrambling across white, searing-hot beach-sand on the coast near Mahahual back in 2008. That species is at http://www.backyardnature.net/yucatan/goatfoot.htm.
However, notice that the Goat's-foot's leaves are notched at their tips, giving the leaf a goat's-foot shape, while leaves on our current species are pointed.
Our road-invading species is the Ginger-leaf Morning-Glory, IPOMOEA ASARIFOLIA, found throughout the world's tropics, with undetermined nativity. So little botanical info about it is available on the web that we need to describe it closely here. First, take a look at a longitudinal section through a flower showing stamens of very different lengths below: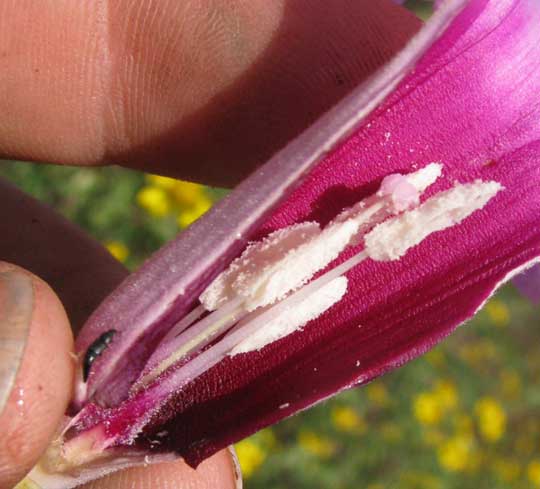 The hairy calyx's rounded sepals of uneven lengths, and with conspicuous glands at the sepals' bases, is below: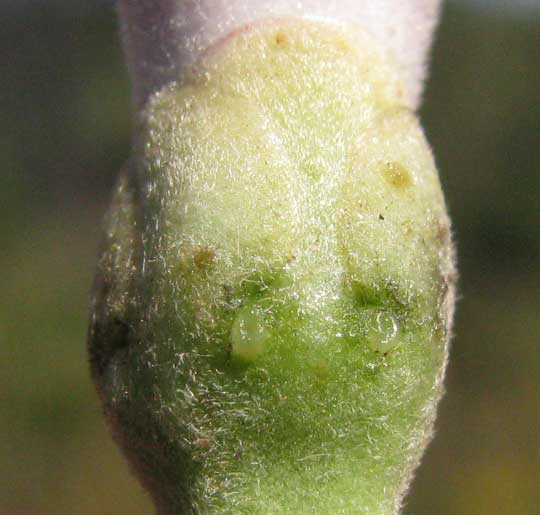 The glandular midrib on the leaf's velvety underside is below: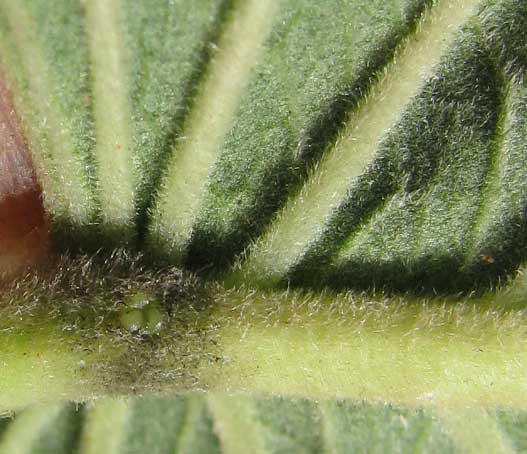 Most internet pages dealing with the species are concerned with the fact that sometimes livestock eat its herbage, get sick and die. Studies indicate that the problem may not be with toxins in the plant itself, but rather with a fungal infection that attacks the vine. The fungus is related to the ergots, who cause "ergotism," the main symptoms of which in humans are convulsions and gangrenous complications. Also, ergotism may include hallucinations, which cause some desperately unimaginative people to experiment with the seeds.