Excerpts from Jim Conrad's
Naturalist Newsletter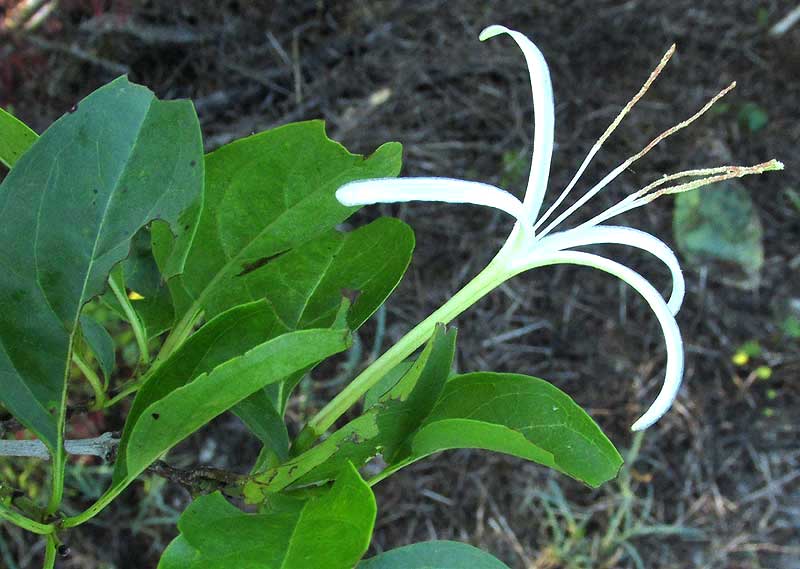 from the November 23, 2014 Newsletter issued from Río Lagartos, on the north-central coast of Yucatán, MÉXICO
PRINCEWOOD FLOWERING
Nowadays a fairly common bush or small tree is issuing white flowers with spectacular corollas over two inches long (6cm), as shown above.
Noticing that this plant's leaves occur two per stem node and that the flower's sepals and corolla arise above the ovary, not below it (it's " inferior") a good guess is that the plant belongs to the big, mostly tropical Coffee or Madder Family, the Rubiaceae. The way to confirm that is to look for conspicuous stipules or stipular lines connecting the tops of leaf petioles across the stems. Below, you can see one of this plant's triangular stipules -- the left leaf has fallen off: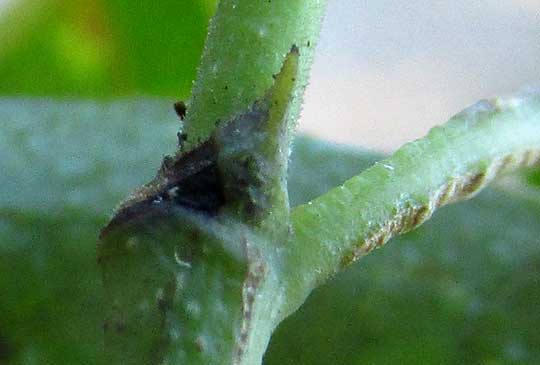 So, this member of the Coffee Family is EXOSTEMA CARIBAEUM, often called Princewood. It occurs on islands throughout the Caribbean, including the Florida Keys, and from the northwestern coast of South America north to central and northeastern Mexico. It grows in arid coastal thickets, low rises in marshy areas (hummocks) and woodlands on limestone, so this area is about perfect for it.
On Caribbean islands, bark extracts of Princewood traditionally have been used medicinally to treat malaria, anemia, diarrhea, hemorrhoids, stomach aches, ringworm, to increase appetite, regulate low blood pressure, and also as a general "strengthening tea." In some places the bark extracts enjoy fame as an intensifier of drunkenness when mixed with alcohol.