Excerpts from Jim Conrad's
Naturalist Newsletter
from the October 27, 2008 Newsletter, written in Yokdzenot and issued from a ciber in Pisté, Yucatán, MÉXICO
DON JORGE'S EAR MEDICINE
Deep in the forest I met Don Jorge, an old fellow who solemnly looks right into your eyes as you speak. Carrying a tattered burlap bag over his shoulder he was heading toward his cornfield, but he seemed eager to tell me things, especially when I mentioned medicinal plants. Suddenly his eyes started darting around, looking for a certain plant he wanted to tell me about, but it wasn't there.
"It cures fungal infection beneath your toenails," he said. I remarked that it was too bad he couldn't find the plant because I'd like to try it on my ear fungus. In no time he was dragging me down the trail until we found the plant, which he's holding in the picture below: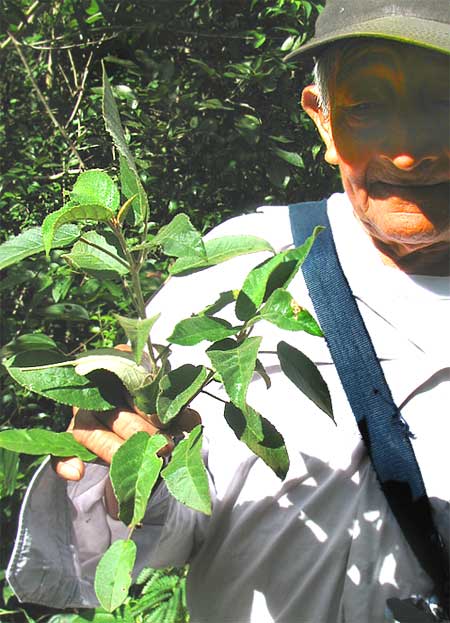 "It's Ek-balam," he said, snipping off a leaf and showing me the clear, thick liquid oozing out. "Put this on skin with a fungus and it'll cure it. It burns, but it'll cure it!"
The plant was unflowering but from its spicy, crushed-leaf odor and the scurfy mat of silvery-reddish, multi-pointed (stellate) hairs mantling the leaves below I could guess that it was a member of the genus Croton, of the Euphorbia Family, and when I looked up Ek-balam in Martinez's Las Plantas Medicinales de Mexico my suspicions were supported. Several plants go by the name of Ek-balam but it looks like ours may be Croton cortesianus. The book says that this plant's juice is used as a caustic agent when dealing with skin problems.
I put juice in my ear, but not deeply enough to touch the eardrum, and it did burn considerably. The itching stopped for about a day but I'd also been using a drugstore ointment for athlete's foot, so I still can't say whether it works.