Excerpts from Jim Conrad's
Naturalist Newsletter
from the December 8, 2008 Newsletter written at Mayan Beach Garden Inn on the Costa Maya, Quintana Roo, México
"CLOWN CHILI"
I continue to be astonished at the variety of chili peppers found in people's gardens here. I've told you about tiny, super-hot Chili Pequín (still online at http://www.backyardnature.net/q/chili.htm) In the little garden next to the hotel there's another kind of tiny, super-hot chili pepper known locally as "Chili Payaso," or "Clown Chili." It's shown below: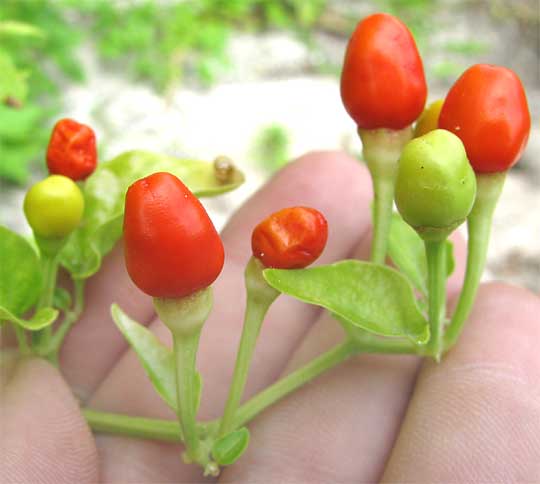 One person says the clown part of the name arises from the shape and color of the chili, like a clown's nose, but Doña Lupe, the cook, says the chilis are called "clown" because they turn different colors, first green, then yellow, then orange, and finally red.
Doña Lupe says that Chili Payaso isn't too common around here, and that she thinks our plants are from seeds brought up from Belize. She says that Chili Payaso can be used interchangeably with Chili Pequín -- anytime you need something that's tiny and really, really hot.