Excerpts from Jim Conrad's
Naturalist Newsletter
from the December 15, 2008 Newsletter issued from Mayan Beach Garden Inn 20 kms north of Mahahual, Quintana Roo, México
BLACK-BELLIED PLOVERS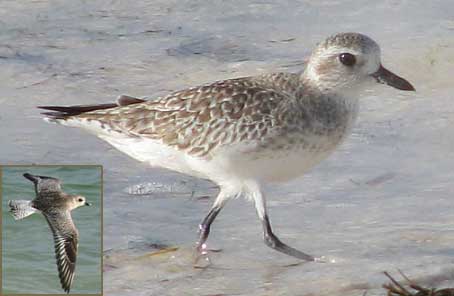 Above you see a medium-sized plover often seen here hanging out with Sanderling flocks on the beach and with Semipalmated Plovers at the water's edge in the mangrove pond. You know it's a plover because of the slight bulge right behind the short, thick bill's tip, and you know it's a Black-bellied Plover in winter plumage because of the combination of the heavy mottling and the white rump seen when it flies, shown in the inset. The "rump" is where the tail connects with the upper back.
Another good field mark for Black-bellied Plovers is shown at the right -- the black "armpits" -- the black patches beneath their wings, shown below:
Plovers typically feed in a stop-start manner -- standing still, then running and pecking, then standing awhile, etc. They feed on many kinds of invertebrates. Our bird's big eye also is typical of plovers.
The Black-bellied Plovers I'm seeing here are always the only one of their species staying loosely associated with flocks of smaller, faster-moving shorebirds. Howell says that sometimes you see flocks of over a hundred of them, though.
Black-bellied Plovers are Pluvialis squatarola.
---
from the October 2, 2011 Newsletter issued from Mayan Beach Garden Inn 20 kms north of Mahahual, Quintana Roo, México
BLACK BELLY/ WHITE BELLY
Black-bellied Plovers are fairly common along the beach nowadays, and most at this time of year have white or almost-white bellies, not black ones. Field guides assure us that during summer nesting season in the high Arctic of northernmost Canada and Alaska, Black-bellied Plover bellies as well as chests and parts of their faces are indeed broadly and starkly black. The underparts of some of our currently arriving birds are in a state of transition. Such a bird is hown below: