Excerpts from Jim Conrad's
NATURALIST NEWSLETTER
from the March 18, 2006 Newsletter written at Hacienda San Juan Lizárraga one kilometer east of Telchac Pueblo, and issued from Hotel Reef Yucatan 13 kms to the north, northern Yucatán, MÉXICO
BOAT-BILLED HERON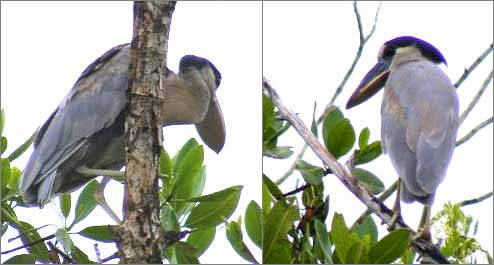 Boat-billed Heron at Río Lagartos, photos by Cotting White
For me the most interesting species seen during the Dzilam de Bravo trip was the Boat-billed Heron, COCHLEARIUS COCHLEARIUS. All of the 16 members of the Heron Family found in Mexico are found in North America, except the Agami Heron, two tiger herons, and this, the Boat-billed Heron. Boat-billeds are truly tropical-habitat specialists, distributed from Mexico to Argentina. The closest we have to them in North America are the two night-heron species.
Like night-herons but unlike most other heron species, Boat-billed Herons have short, thick necks, very large eyes, massive but relatively short beaks, and they are nocturnal (thus the oversize eyes). Boat-bills are even more strictly nocturnal than night herons.
I wouldn't have seen these birds if the local guide hadn't pointed them out. They perched wing to wing next to their nest deep inside a shadowy mangrove thicket, four or five feet below a very exposed, bush- top nest of Great Egrets with fuzzy nestlings begging for food. The Boat-bills moved not an iota and remained perfectly quiet. Yet even in silhouette their big, flat "boat bills" distinguished them from all other herons.
Across the lagoon we could see hundreds of American Flamingos feeding, showing us how those birds used their large, banana-shaped beaks. With their heads upside down beneath the water's surface so that the bill's bent part acted like a scoop dragged along the lagoon's floor, it filtered out algae and small marine life such as snails and bottom-dwelling insect larvae. However, as far as my books and I know, no one can say why Boat-billed Herons need their kind of bill, which is so like a huge, pointed duck-bill.
---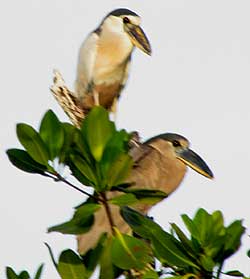 from the November 2, 2014 Newsletter issued from Río Lagartos, on the north-central coast of Yucatán, MÉXICO
NICE PICTURE
We already have nice Boat-billed Heron pictures showing the bird's amazing boat bill, but this week out in the mangroves I got another I just have to share. It's at the right.