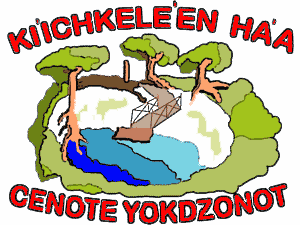 SMALL-SCALE,
LOCALLY PRODUCED,
COMMUNITY-SUPPORTING
TOURISM AMONG THE
MAYA
IN
YOKDZONOT
Yucatán, México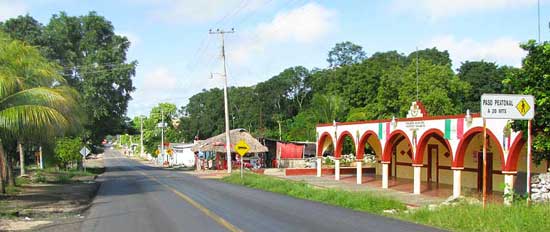 view down Hwy 181 through Yokdzonot

okdzonot lies on "the Old Highway" -- the main road before the tollroad went in -- between Mérida and Cancún. It's about 100 kms east of Mérida, 220 kms west of Cancún, and only about 15 kms west of Chichén Itzá.

The view through town at the top of the page gives the impression that Yokdzenot is smaller than it really is. A few paved streets and informal lanes and trails extend away from the main highway, bringing together a community of about 850 people. Most people speak Maya but nearly everyone also is fluent in Spanish.
THE CENOTE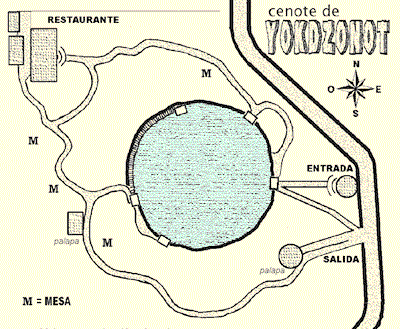 In the middle of town, turn south, following the signs pointing to the cenote. About 300 meters from Hwy 181 you'll come in at the top of the map at the right, the road curves a bit to the left, then the right at the entrance (entrada). Parking is available just beyond the entrance. The map shows that there's a circular trail, several overlooks, a restaurant, a thatch-roofed palapa for small gatherings, and several picnic tables (m=mesa).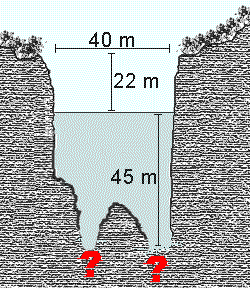 Yokdzonot Cenote is 40 meters across (131 feet). It's about 22 meters (72 feet) from the rim to the water. Divers have gone as deep as 35 meters (115 feet) without finding the floor at the edges, though they did find floor in the center. They estimated that the floor, if there is one, is at least 45 meters deep (148 feet).
It's entirely possible that at the edges the cenote connects with the extensive network of water-filled caverns typical of most of the Yucatan. It's even somewhat possible that someday one might enter our cenote and come out at another.
Of course, swimming in the cenote is an unforgettable experience.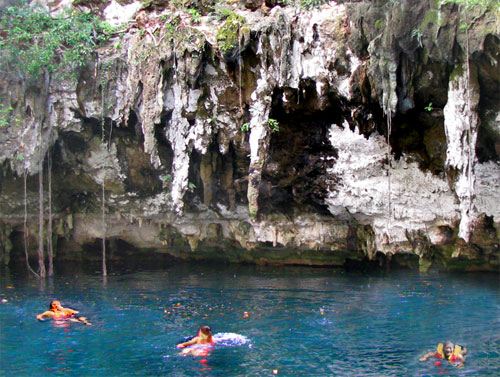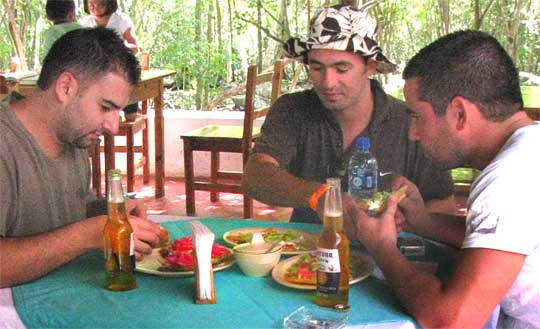 MENU:
PANUCHOS (order of 4 pieces)/ 30 pesos: Handmade tortilla stuffed with bean paste topped with shredded cabbage, chicken, onion and tomato
SALBUTES (order of 4 pieces)/ 30 pesos: Handmade tortilla fried in oil topped with chicken, cabbage, onion and tomato
EMPANADAS/ 30 pesos: Handmade tortilla folded over cheese or chicken and topped with lettuce, tomato and cream
QUESADILLAS/ 40 pesos: Wheat-flour tortilla with ham and cheese, lettuce, tomato sauce and cream
SOPES/ 40 pesos: Tortillas cooked in traditional comal, topped with bean paste, cheese, lettuce, chicken, tomato and cream
POC-CHUC/ 50 pesos: Pork topped with rice, bean paste, onion, tomato sauce, with salad
POLLO A LA PLANCHA/ 50 pesos: Chicken breast topped with rice and bean paste, with salad

---

ALSO: sodas, beer, mineral water & coffee
MOUNTAIN BIKING
Mountain bikes can be rented to visit other cenotes or just ramble around town. A guide will lead you to the cenotes. One cenote is about four kilometers away down a well paved road and another is somewhat isolated in the forest, accessible only by a dirt trail that can be a bit bumpy, but lots of fun on a mountain bike.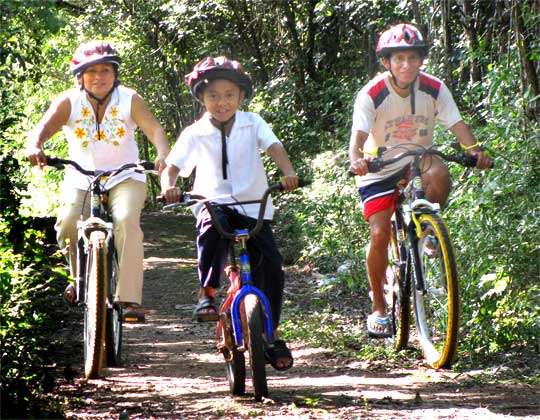 SHORT TRIPS OUTSIDE OF TOWN
Besides the cenote everyone visits, two other cenotes can be visited outside of town. One is about four kilometers south of town, accessible by a narrow, well paved, road, and the other is on the north side of town, reached only by a trail. The three bikers shown above are on that trail. In fact, it's the most fun to visit both cenotes by mountain bike, the first being very easy to bike, the other a little more challenging.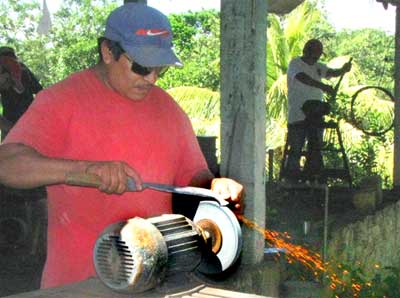 About eight kilometers south of Yokdzonot, at the end of a well paved but narrow road, you can bike to Mixel where nearly the whole town is engaged in making metal hand tools, especially traditional, curve-bladed
coas
such as the one being sharpened at the right. The tools are very inexpensive, in case you'd like to buy some...
MEDICINAL PLANT WALK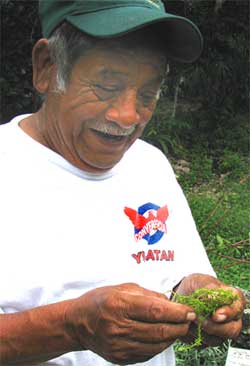 People in Yokdzonot possess an amazing treasury of knowledge about the plants and animals around them, particularly medicinal plants.
Guides are available to take you into local gardens and the surrounding forest to introduce you to whatever medicinal plants happen to be available at that season. They'll provide names, tell you what problems they relieve, explain which parts of the plants are used, and describe how to prepare the medicine.
Among plants you might be shown are:
Sábila
Epazote
Yerba Buena
K'anan
Pelixkunx
Zacate Lemón
E-Balám
Kakaltén
P'opox
Chacá
Pochote
Zapote
Mora
Xta'a'Kani
Jabín
You may be interested in learning more about the plants and animals living in and around Cenote Yokdzonot.
RENT A HAMMOCK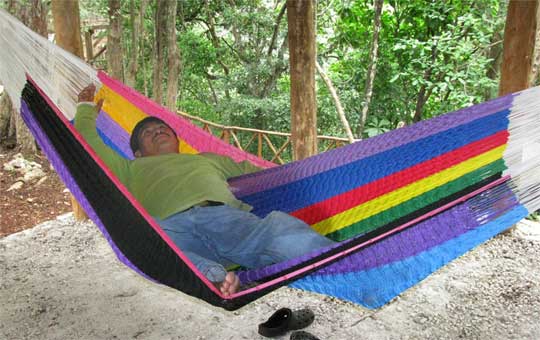 The concept is simple: Rent a hammock and take a snooze in a palapa next to the cenote.
CAMPING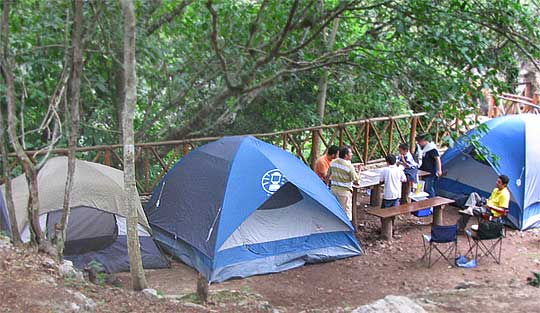 You can camp right next to the main cenote as the people above are doing or set up next to another of the two cenotes in the forest, far from town, surrounded just by Nature.
RAPPELLING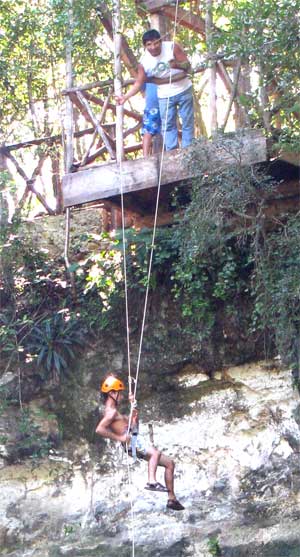 The cenote has a special platform at the rim from which the adventurous can rappel down the cenote wall, as shown at the right.
All the needed equipment can be rented and guides are available to help it be done safely.
MAKING THE VISIT
It's best, but not absolutely necessary, to make reservations. Just call:
99 92 61-43-36