Calories per cup


Dietary Fiber
Total Fat
(Saturated Fat)
Cholesterol
Vitamin A
Thiamin (B1)
Riboflavin (B2)
Niacin (B3)
Vitamin B6
Vitamin C
Vitamin E
Sodium
Potassium
Carbohydrates
Protein
Calcium
Iron
Folate
Pantothenic Acid
Phosphorus
Magnesium
Zinc
Copper
Manganese
Selenium
189
% Daily
Value:
23%
1%
1%
0%
586%
12%
13%
8%
27%
51%
7%
8%
24%
15%
9%
17%
9%
16%
7%
10%
15%
5%
11%
38%
4%
DATA CALCULATED FROM INGREDIENTS USING A NUTRITION SOFTWARE
INGREDIENTS:
1½ cups carrot juice
8 prunes, pitted
1 banana
1½ cups alfalfa sprouts
1 tbs. honey
¼ cup fresh wheat grass
1 cup chopped collards or similar leafy vegetable
servings:
3 cups
The nutrition chart at the right and the simple ingredients at the left speak for themselves.
Below you can see how to make The Green Drink.
Here's what you need: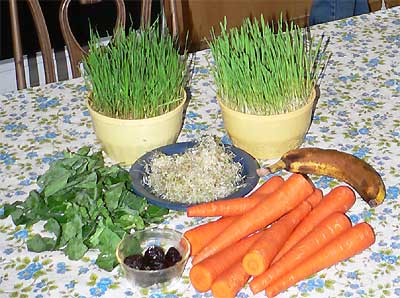 You'll need a juicer to liquify all this...
FIRST, ABOUT THOSE BOWLS OF GRASS...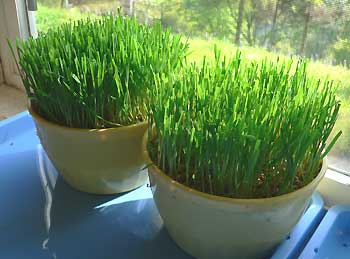 That's wheat grass and they have been grown in containers placed on a window sill, as shown at the right. Wheat grass is a good source of certain nutrients. You can read a lot about it at
Wheatgrass.Com
. One point the information at that site makes is that outside-grown wheat grass is more nutritious than what is grown inside. Also, other kinds of grass also serve well, such as barley. You should not be dissuaded from using grass from agricultural fields or gardens
not poisoned with pesticides
. Many Green Drink recipes do not include any kind of grass.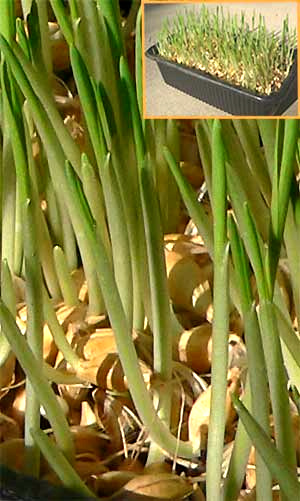 The close-up at the left shows a tray of barley grains lying atop the soil, instead of being buried. First a loose, moist soil not containing weed seeds is placed into the container, then atop the soil a thin layer of seeds is sprinkled. You can see that little soil shows between the seeds.
At first the tray should be covered to prevent the soil and seeds from drying out. Before the seeds sprout it doesn't matter whether they are exposed to light or not. Once the grass sprouts emerge from the seeds, however, the sprouts definitely need all the sunlight they can get. Ideally you should cover the tray with something that lets sunlight in, but doesn't let the moisture escape. Below is how you harvest the blades, leaving the plant bases to produce further blades.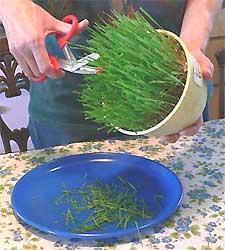 NOW JUICE YOUR CARROTS: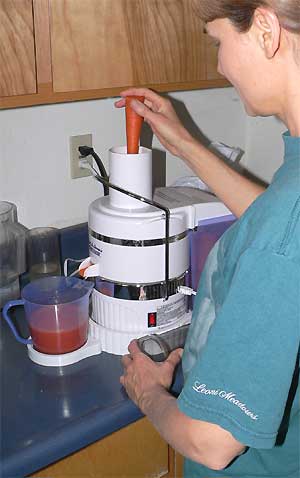 Even in simple lives certain technologies and gadgets are worthwhile and that's the case with juicers and blenders. Juicers let you liquify many common, easily available and inexpensive vegetables and fruits, to make nutritious and tasty beverages. Blenders open up a whole new world. It takes about 9 carrots to produce the 1½ cups of juice needed here.
You can review various juicers, blenders and books about juicing available online at Amazon.com by clicking here.
Other Green Drink recipes are available at http://www.greendrinkrecipes.com.
THEN BLEND THE CARROT JUICE WITH THE REMAINING INGREDIENTS.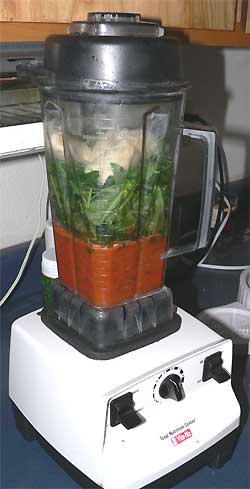 Finally...
ENJOY!