Excerpts from Jim Conrad's
Naturalist Newsletter
from the July 20, 2007 Newsletter issued from Sierra Gorda Biosphere Reserve, QUERÉTARO, MÉXICO
TOBACCO, THE REAL THING
I grew up on a tobacco farm in western Kentucky, so last Sunday when I saw a certain weed with large, soft-looking leaves on a stem topped by lots of white flowers with a pink tinge, I knew I was looking at tobacco. What really caught my attention, however, was seeing where it grew: On a steep, rocky, dry, mountain slope.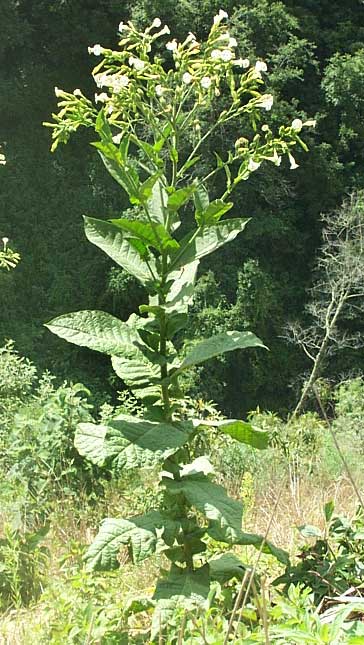 Looking at that robust, healthy-looking plant I remembered how hard we used to work to make sure that our tobacco patch's soil was loose and moist, fertilized just so-so, kept free of weeds, and also I remembered the battles we had to fight with tobacco worms. Yet last Sunday's prolifically flowering, healthy-looking, un-wormy tobacco plant on that much-abused, dry, weedy slope couldn't have looked happier exactly where it was.
In this year's February 23rd Newsletter I introduced you to yellow-flowered Tree Tobacco, which is a "real tobacco" in the sense that it's a member of the genus Nicotiana, to which cultivated tobacco belongs. The plant in the above picture belongs to the same genus AND species. Just like cultivated tobacco, it's NICOTIANA TABACUM. It's the REAL real thing.
Back when I was a kid, how often our fancy tobacco plants contracted diseases, or withered if the rain wasn't just right, or was eaten to shreds by tobacco worms, or had leaves snapped by whirlwinds. Those hybrid, overfed, coddled, wimpy plants we tried to grow simply wouldn't have survived an instant on that slope.
Genetic diversity. How lucky Nicotiana tabacum is to have some of its ancestral stock still growing wild and still harboring genes in which are encoded the secrets of thriving in rough, uncompromising places.