Excerpts from Jim Conrad's
Naturalist Newsletter
from the March 3, 2007 Newsletter issued from Sierra Gorda Biosphere Reserve, QUERÉTARO, MÉXICO
THE BALDCYPRESSES OF EL SABINAL
The name "El Sabinal" means "Place of the Baldcypresses," the local Spanish name for baldcypress being "Sabino." They're also called "Ahuehuetes." In English we call the species at El Sabinal "Montezuma Cypress." It's TAXODIUM MUCRONATUM we're talking about.
Though few Montezuma Cypresses grow in English- speaking territory (only southernmost Texas, which also is mostly Spanish speaking), this species has an English name because it's so extraordinary that even English speakers talk about it. If you look at the picture of me sitting at the base of the one beneath which we released Mapache you'll see why. It's below: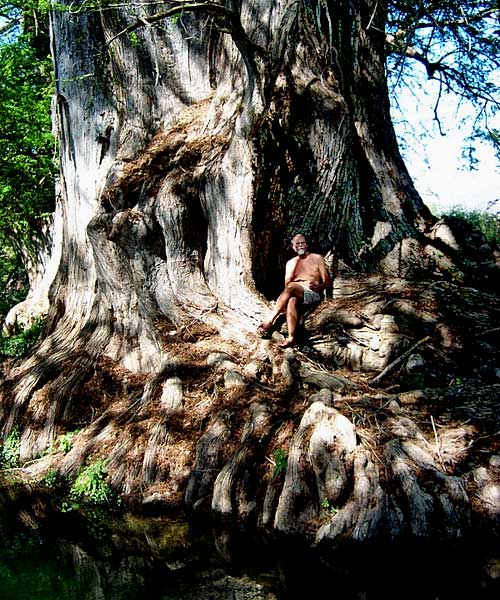 .
Montezuma Cypresses aren't particularly tall, but the bases of their trunks are enormous! Moreover, I've seen them with trunks even larger than ours. Near Mitla Ruins in Oaxaca a tree known as the Tule Cypress is 140 feet tall, with a trunk between 35 and 40 feet in diameter. It's listed as "The world's widest tree," though there's a debate about whether the Tule Cypress is a single tree. You can see the Tule Cypress at http://en.wikipedia.org/wiki/Image:Mexico.Oaxaca.ArbolTule.01.jpg.
Unlike closely related Baldcypresses of Southeastern US swamps, Montezuma Baldcypresses aren't necessarily swamp trees. They need plenty of moisture, but often you find them on mountain slopes, frequently as individual trees in sheltered, moist coves.
This is Mexico's National Tree. I don't think Mexicans give this species such status only because it's so big. Wherever the trees grow there's always a special feeling. The feeling at El Sabinal last Saturday was one of profoundly lush, summery restfulness. One of my pictures captures a little of that feeling. It's at http://www.backyardnature.net/n/07/070302s2.jpg.