Excerpts from Jim Conrad's
Naturalist Newsletter
from the February 2, 2007 Newsletter issued from Sierra Gorda Biosphere Reserve, QUERÉTARO, MÉXICO
DANGLING RAT-TAIL CACTI
Even in the Joya's cold, moist forest, cacti often put on a show. In certain areas tree limbs were draped with a slender, dangling, epiphytic, endemic cactus, APOROCACTUS MARTIANUS, sometimes known as Rat-tail Cactus. You can see it dangling from a mossy tree-stub topped with a gorgeously red-flowering bromeliad, Tilandsia imperialis, below: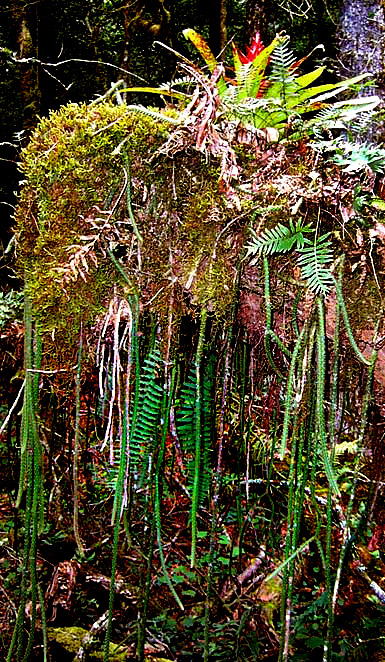 A close-up of this species' stem and flowers is available here.
Up north a very similar and closely related species, Aporocactus flagelliformis, often is sold as a window plant. Our species is a bit more robust than that one but is seldom grown. Both species send out aerial roots and both produce diurnal, or day-blooming, blossoms especially attractive to hummingbirds.
This species must be very sensitive to subtle habitat variations because in some areas it was absent and in others abundant, even though I couldn't sense differences between the environments.