Excerpts from Jim Conrad's
Naturalist Newsletter
from the September 21, 2007 Newsletter issued from Sierra Gorda Biosphere Reserve, QUERÉTARO, MÉXICO
"LITTLE MARVELS"
I arrived in the semi-desert too late in the rainy season to "see the desert in bloom." Especially the many cacti bore brown, desiccated corollas or no corollas at all atop swelling ovaries slowly maturing into fruits.
Still, one wildflower species was absolutely stunning, especially in the morning's brilliant sunlight. You can see a particularly handsome colony spectacularly abloom on a talus slope below a roadcut below: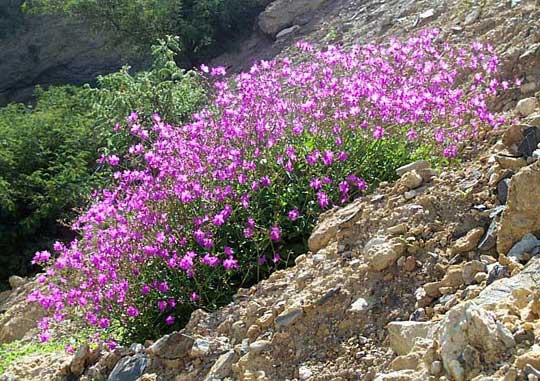 I'm pretty sure this is a member of the genus MIRABILIS, but I'm not sure which species. Mirabilis is the Four-o'clock genus. You can see how similar the flower structure is to your own garden Four-o'clocks below: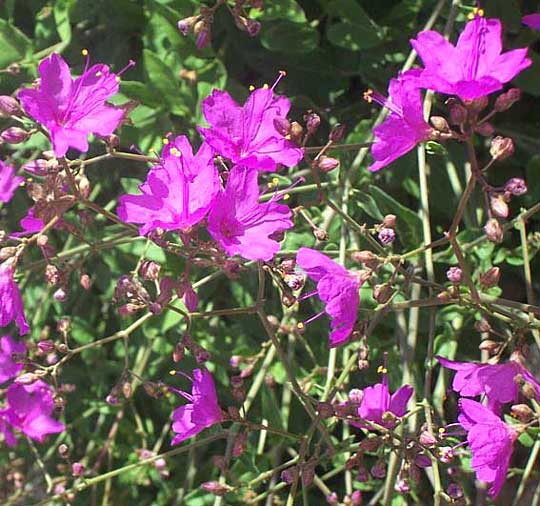 Mexicans call members of this genus Maravillas or Maravillitas, which means "Marvels," or "Little Marvels." It's a decent name because you do want to just sit and marvel at how sunlight glows in the flowers. Even the Latin Mirabilis means "wonderful."