SHRUB VERBENA/ LANTANA
I've never found it easy to distinguish between Lantanas and Verbenas without seeing the fruits. Up North where you have only a handful of species the differences among flowers look pretty obvious but when you start meeting the many other often-tropical species, things get less clear. With the fruits, however, it's more clear-cut: A Verbena ovary separates into four nutlets, while Lantana ovaries produce fruits with two bony nutlets.
Therefore, the Shrub Verbena that's been flowering here ever since I arrived is clearly really a Lantana, since its ovary matures into into a fleshy fruit with two bony nutlets. You can see the flowers of our very common, very pretty Lantana species below: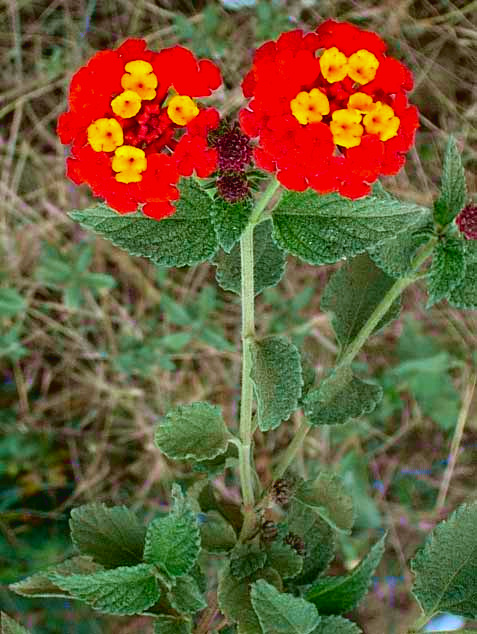 From what I find on the web, Lantana camara and Lantana urticoides are often confused, and both grow here. Both are long-flowering shrubs with strong-smelling herbage, and both have horticultural variations with different-colored flowers. Supposedly urticoides has rounded sepals while camara's are acute. The true identity of this one will have to wait until an expert tells me or I have access to appropriate botanical literature.