Excerpts from Jim Conrad's
Naturalist Newsletter
from the December 29, 2006 Newsletter issued from Sierra Gorda Biosphere Reserve, QUERÉTARO, MÉXICO
HOYA DE LA LUZ
Last Saturday, the 23rd, my friend Roberto drove me across the main Sierra Madre ridge onto the Gulf Slope just beyond the Querétaro border, into the state of San Luis Potosí, near Xilitla. In the four-wheel-drive Jeep we took a one-lane road steeply upslope to its end, then hiked a very steep trail for two hours to the isolated settlement of La Trinidad. La Trinidad is another little village, of about 15 families, we're helping develop ecotour infrastructure, with rustic bungalows. How wonderful those folks were, and how delicious the Christmas tortillas-and-beans, and thick bean gorditas they regaled us with.
You can see spread-out La Trinidad from a slope above town, with the Gulf Lowlands toward the east beyond town, and get a good feeling for the lay of the land below: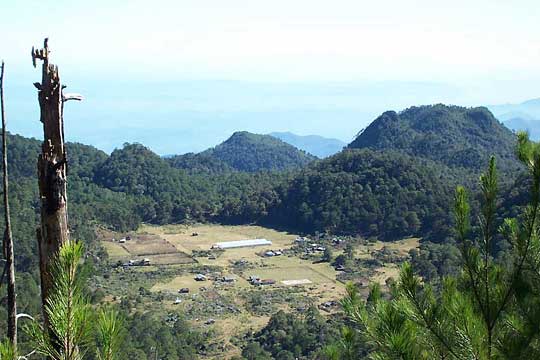 Roberto left me at La Trinidad, for my wish was to climb higher into the mountains and wander a bit. Consequently, on Christmas day I found myself at about 7500 feet in elevation (2300 meters) perched precariously at the lip of the most spectacular sinkhole I've ever seen, known as Hoya de La Luz. Hoya de La Luz is internationally famous among rappellers but seldom visited, because it's so hard to get to. Folks at La Trinidad said it's been about ten years since anyone has tried descending into it. You can see its picture, though the image hardly conveys the toe- curling enormity of the hole, below: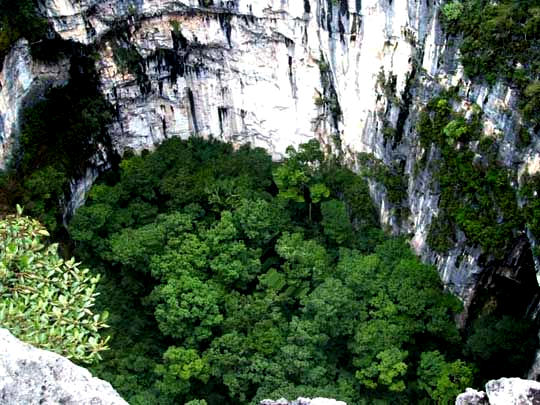 The drop into the pit is officially given as 591 feet (180 meters), which actually isn't all that deep compared to other Mexican holes. On a web page called "Deep Pits of Mexico," provided in PDF format, you can see at http://www.amcs-pubs.org/longanddeep.pdf that Mexico's deepest pit, at 1345 feet (410 meters), is El Sótano de El Barro, which also is located here in Querétaro State. Well, if any rappellers out there want to dip into our deep pits, contact me, for I know plenty of folks eager to guide and provide packhorses, and believe me you'll need guides and horses.
One account of an entry into the pit by some appropriately wild-sounding gringos reports on conditions at the pit's bottom: "It was massive. Grass, waterfalls, streams, shrubs, and trees over 100' tall. The tallest tree was about 175' tall, judging from the markings on the rope." You can read that report at http://www.caves.org/grotto/cullman/pages/Newsletter/donde.html.
Hoya de La Luz is so enormous that I have problems explaining it as a simple sinkhole, though I suppose that that's what it is. The area's geology is tortured- looking. It's the Cretaceous limestone I told you about the last time, but by no means is this limestone anything like the dignified, more or less horizontal, white strata that so prettily framed the Kentucky River this summer. I photographed a ridge of squeezed, folded, eroded rock but the image doesn't convey the dimensions and feelings of things. Maybe if you study it you can feel it. It's below: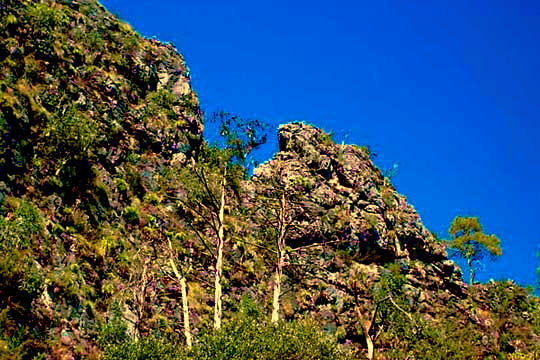 I kept expecting the most tortured, loopy-looking outcroppings to be basalt -- cooled volcanic magma. However, whenever I chipped off a piece my handlens revealed dainty little rhomboid crystal faces of calcite, the stuff of limestone.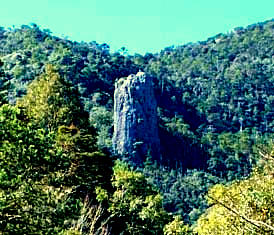 But there's one feature easily visible from La Trinidad which I think may be an ancient volcanic neck that's had the limestone eroded from around it. I couldn't get to it to see what kind of rock it's made from. You can see the thing at the right.
You can see other known volcanic necks and read how they and other volcanic structures are formed here.