Excerpts from Jim Conrad's
Naturalist Newsletter
from the September 7, 2007 Newsletter issued from Sierra Gorda Biosphere Reserve, QUERÉTARO, MÉXICO
WILD BEGONIA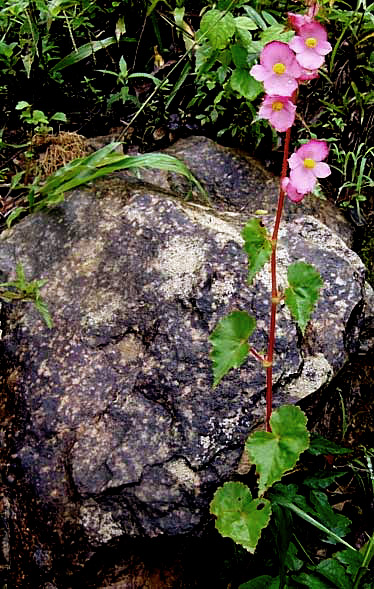 We have wild begonias here. Last Saturday I hitched a ride with Pancho, who was carrying supplies to ladies in a highland village whose sowing cooperative is being helped by the reserve. Leaving Jalpan we saw that surrounding mountaintops were all chopped off by clouds. Along muddy, gravel-and-dirt roads we bounced and slid into those clouds and when we got to the ridge top and I left the truck the cloud-fog was so dense we could see only a few truck-lengths away. It was drizzling and 63°. During the rest of the day I hiked back into the lowlands just for the pure pleasure of seeing the roadside flora up close, and of descending through clouds into a lush, vibrantly green valley through which a little stream roared carrying white water.
I hadn't walked half a mile before finding my first begonia, a small, slender one with big flowers, shown in the picture.
NOTE: In 2012 begonia fancier Doug Hahn in Georgia wrote saying that our plant is the tuberous "Hollyhock Begonia," BEGONIA GRACILIS var.MARTIANA
Apparently it's too dry in the valley for begonias, for I've not seen them there. Begonias like moisture, and up on that ridge among the clouds begonias have their moisture. Eight begonia species are listed for the Reserve. On the Internet I find descriptions and photos of seven of those eight but the one in my picture isn't any of those.