Adapted from Jim Conrad's
Naturalist Newsletter
of February 23, 2007
issued from Jalpan, Sierra Gorda Biosphere Reserve,
QUERÉTARO, MÉXICO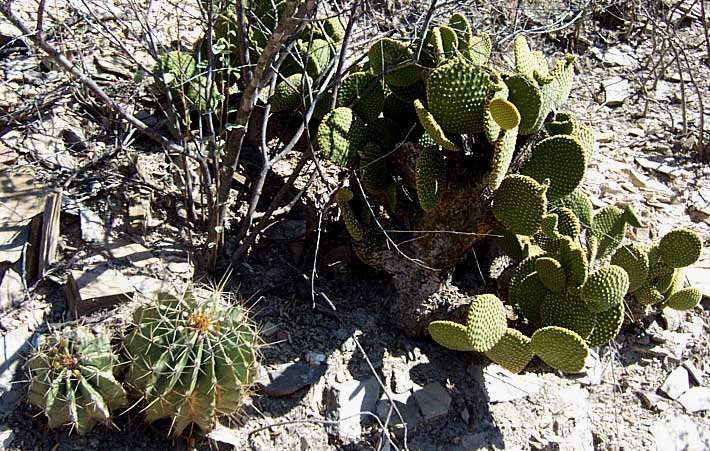 TWO CACTI FROM
BELOW CAMARGO, QUERÉTARO
Above you see two more common cactus species. The one on the right is obviously closely related to the common pricklypear, but notice the wonderful absence of spines! This is OPUNTIA MICRODASYS, sometimes lumped with O. rufida, of which I've seen plenty in western Texas. English names for our species include Bunny-ears Cactus and Polka-dot Cactus, but I prefer the Spanish name, "Nopal Cegador." That means "Blinder Cactus," which surely is based on the belief I've heard expressed in West Texas that wind can blow the cactus's abundant, fine glochids (those very tiny spines at the base of large spines) into the eyes of grazing livestock, and blind them. Despite the profuse glochids, this cactus is often cultivated, mainly because of its lack of regular spines.
To the left of the Blinder Cactus grow two young barrel cacti, which I suspect to be FEROCACTUS ECHIDNE, endemic to five or so states in this part of upland Mexico, but grown widely. Not having flowers I can't be sure of the name. I read that in some places this species is so abundant that the natives remove the spines and feed the plant body to livestock. Also, the pith has been boiled in sugar-water, then allowed to dry, or crystallize, to make a backcountry candy -- a process that has depopulated large portions of the countryside of barrel cactus. Several barrel-cactus species, known here collectively as "biznagas," have suffered the same fate.